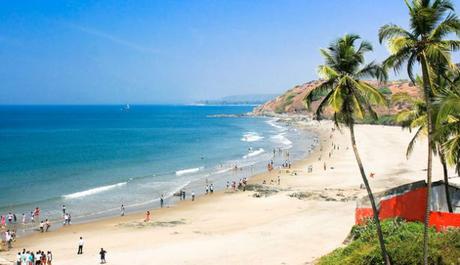 Vagator Beach, Goa
Goa is the destination of beaches, and this is no hidden truth. There is however sea difference between knowing about the beauty of this gifted place and visiting it in person. Fortunately, I happened to be here few months back, and I just promised myself to keep visiting this paradisaical land more often. So what is it that attracts the people to keep visiting this place? Is it the beaches, the forts, the people here, or the local markets? Well, I must say, all these things hold respective significance and altogether contribute in making Goa a glorious and glamorous place to hang around. So let's start with the most hypnotizing factor that enthralls all and sundry towards this happening place of India. Yes, the BEACHES!
Surrender to Bewitching Beaches
For a first timer like me, the mere imagination of sea waves kissing your lips with a forceful velocity is euphoric. The moment I happened to get the first sight of its beach, I was speechless – It was Baga beach, one of the most popular ones in North Goa. Wherever your sight could reach, and even beyond it, every bit is captured by water and only water. The waves keep approaching toward you one after another, as if they are in a queue and waiting for their turn to romance with your existence.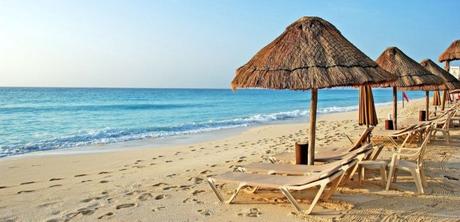 Baga Beach
At times, some anxious sea waves could even wish to greet you out of turn, so beware. The sand area is yet another titillation to the tourists. People of all age groups enjoy being here in their own manner. While children spend quality time building mud houses, adults help them out. Meanwhile, the females, especially the foreigners are busy enjoying their privacy in the sun kissed beaches, on their comfortable shacks.
Beaches to be in
You must be already aware of all the must visit attractions here. However, if you are yet to tour Goa and planning a trip to this destination, here are some of the most attractive beaches that are worth a dekko.
North Goa –
Calangute beach
Baga Beach
Anjuna Beach
Vagator Beach
Ashwem Beach
Candolim Beach
Morjim Beach
Arambol Beach
Querim Beach
Mandrem Beach
Sinquerim Beach
South Goa –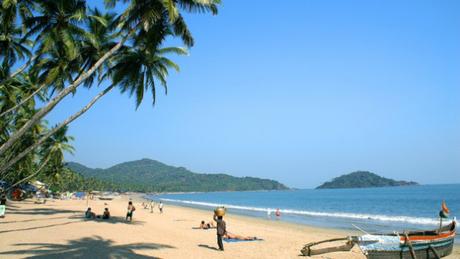 Palolem Beach – South Goa
Dona Paula Beach
Miramar Beach
Colva Beach
Benaulim Beach
Palolem Beach
Grandmothers Hole Beach
Baina Beach
Majorda Beach
Lovers Beach
These are only few of the many beaches in Goa, but considering the fact that every beach would have more or less similar appearance, even visiting half of them would be great. Personally, I managed to visit only few of them in North Goa, which included Baga, Calangute, Vagator, Anjuna and Candolim beaches. Due to scarcity of time, could not touch South Goa; may be next time!
My favorite ones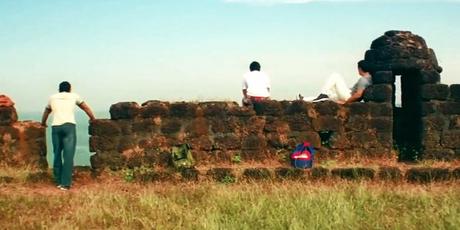 Chapora Fort of Dil Chahta Hai fame
Among all the visited beaches, I found Vagator beach to be the most beautiful, less crowded and in fact most photogenic. Just a stone throw away, the Chapora fort, also famous as 'Dil Chahta Hai Fort', named after the popular Amir Khan's film, is yet another must visit attraction. Aguada Fort near Candolim Beach is yet another splendid place to visit. However, if you want to shop around, then Calangute beach has to be your pick, as it is surrounded by Calangute market, which sells very cheap and Goa specific products that you would love buying any time. Baga Beach is equally good in terms of crowds and you can enjoy various water activities here, but mostly between November to February.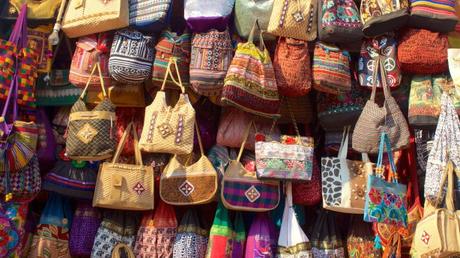 Calangute Market  
While comparing both the areas, you will find North Goa the most commercial and tourist friendly place.  You can get more budget friendly restaurants  to dine and hotel rooms for accommodations in this area,. Comprising a bulk of private beaches, South Goa is comparably more expensive. However, Palolem beach is an exception as it has basic accommodations, and is perhaps one of the most widely visited beaches in this part of Goa.
Places to visit
The state of Goa is divided into two districts South and North Goa with Panaji, the headquarter of North Goa and the capital city, being at the center. Margao is South Goa's head quarter. Besides Panaji and Margao, other major cities include Vasco da Gama, Mapusa and Ponda. Old Goa or Velha Goa also holds high significance in Goa due to its historical background, originally constructed by the Bijapur Sultanate ruled by Adil Shah.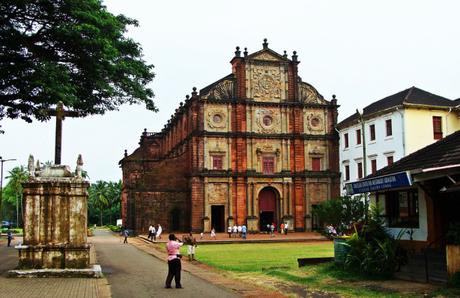 Basilica of Bom Jesus. Old Goa
All these locations are worth visiting, you will enjoy the local food in these places, and taking group selfies would help you to reminisce those moments till long. Last but not the least, the Snow Park in the Tito's Lane near Baga Beach has quite a different and exhilarating atmosphere, and hence  is a charismatic place to visit.
Wrapping up!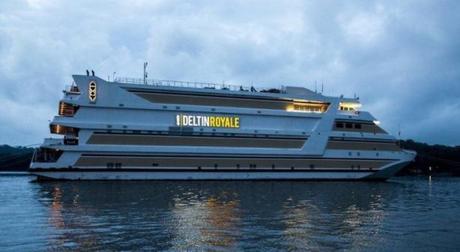 Deltin Royale – India's largest Casino Cruise
The temptation of water all around would keep engaging you to this place for as much time as you wish. Whether you come here with friends or family, you will have a gala time here , for sure. Moreover, if you visit Goa during September to February, or in any season other than Monsoon, you can make the most of exhilarating water activities like snorkeling, paragliding, boating, banana ride, etc. What else! You could also go on an exciting cruise. Happy Journey!
Advertisements
&b; &b;