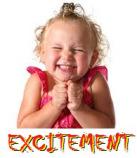 There is no end to my existence, am there in everyone's heart without any resistance. You express your mood with me as your weapon, most often when you get the due reward for your persistence. Am Excitement – The expression that makes you go cross-fingered while awaiting the result for your diligence and at times, sweeps off the ground from your feet, testing the level of your endurance.
I represent a mixed bag of feelings, for some I am an uninvited guest, others adopt me while they expect a much awaiting dealing. The mere thought of meeting with the one whom you ever have had a crush, or strolling down the memory lane while expecting the same old friend after a long hiatus, do you know that it's me who let you know how eager you are to paint all those golden moments with your memory brush.
There are times where people treat me like nickel and dimes but inside their hearts they just can't hide my rhymes. It is better if you express me instantly as you come across some sensitive situations, else who knows you might be breaking the heart of someone very close to your emotions. Once you break a heart, it is hard to settle down the commotion, from then onwards, you just try to fight and win an almost lost contention.
I am greeted with full warmth as a baby arrives in this mean world, but can only hope that the newly born does not greet the world with cruel intentions as he grows up. I can't be missed, or left for granted, am always expressed as the one most wanted, I am there on the faces of young guns who are about to explore something yet unconquered, and grip the minds of fellows who wait restlessly for a new dynasty to dethrone the kingdoms of cruel who unfortunately made the dreams of people go shattered.
You can think me of a drop in an ocean or to the contrary, an ocean full of drops, much depends on your mind whether it wishes to sow a seed of hope or an entire farm of aspiring crops. I can only hope that you all use me in the pink of your health and wish others a sumptuous wealth. But I doubt if you could do that as you all are just the homo sapiens, full of hatred, jealousy, anguish and who can only expect for other's ill-health.