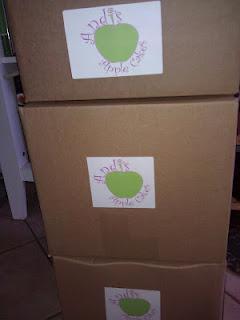 What a crazy week! I don't think I have stopped running since Monday Morning! Lots of news coming your way, so keep a look out. And if you even care, I started running again, though less then I would like due to the fact, that if I stay up till 1am filling orders, sorry but a 6:30am run is just not in the picture. But the want is there, just not the sleep. So here is my Favorite thing this week....
Boxes and lots of them!
Box #1  Order!
Box #2  Winning Apple Cake (!) going out to Pat B!
Box #3 Box of Seriously delish goodies going out to a group of ladies at Blogher '12 One who is a close friend, and wedding attendant Melissa Cleveland who's outstanding blog you  can find HERE! (and also over there on the links ---->) She's also got some amazing blogging roommates who will share in the yumminess.
So yeah! for an awesome week of packages shipped!