Disclosure: This is a sponsored post written by me on behalf of Arrowhead® Brand Sparkling Mountain Spring Water. All opinions are my own.
Wednesday is all too well known for it's descent into the weekend. It's a day of much relief for many people, who often times take a moment from their day to relax and embrace getting over the "hump".
What do you do to feel good on Wednesdays?
For me, it's cooking.
On Monday, I start the process of deciding what recipe I'm going to make. Tuesday is my day of prep and shopping, followed by Wednesday where I spend the day cooking or baking.
This week, I made Tuscan Style Garlic Bread, with my homemade Sourdough bread recipe, to go along with Linguini & Clams. We're complementing our meal with with Arrowhead® Sparkling Water in Lemon Essence.

This water is so refreshing and will be the perfect touch to our Italian style meal. With no sugar or calories and made of spring water, natural fruit essence and bubbles, Arrowhead Sparkling Waters are a great alternative to soda. Other flavors include:
Lime Essence, Mandarin Orange Essence, Raspberry-Lime Essence,
&
Black Cherry.
Coming from a big Irish/Italian family, we pride ourselves in the kitchen. I love re-creating the rustic recipes handed down from my mother, mother-in-law & grandmother. Be sure to take time out of your Wednesday to
feel good!
Here are my favorite tips:
Cook your favorite family meal and share stories at the dinner table of your favorite family memories.
Skip the dishes! They'll still be there tomorrow.
Enjoy family time watching a movie or playing a game. We're huge game lovers in our home!
Put your kids to bed and enjoy a hot bubble bath. 
Get to bed early.
Make sure you drink enough water!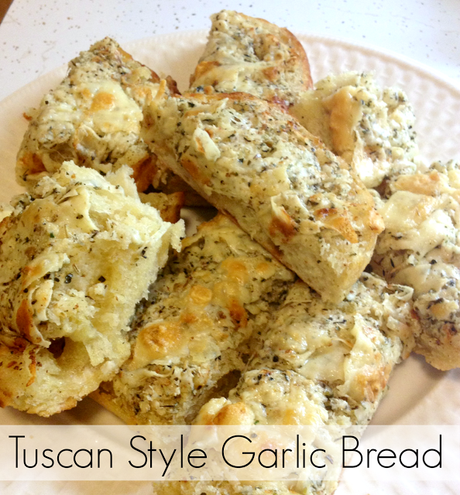 Ingredients:
2 garlic heads
Olive oil
Salt & Pepper
1/2 pound (2 sticks) unsalted butter, room temperature
1/2 c. mayonnaise
1/4 c. grated Parmigiano-Reggiano cheese (plus 1 1/2 tbsp. for sprinkling)
Pinch of Paprika
1 tbsp. Italian seasoning (dried parsley, oregano, basil)
1 tsp. sea salt
1 24-inch sourdough bread loaf, split in half
Directions:
1. Preheat oven to 350 degrees.
2. Slice tops off the garlic heads and place cut side up on a piece of foil. Drizzle with olive oil and season with salt and pepper.
3. Enclose the garlic with the foil completely and roast for 1 hour or until soft. Set aside to cool.
4. Once completely cooled, squeeze roasted garlic into mixing bowl. Add butter, mayonnaise, paprika, Italian seasoning, sea salt and 1/4 c. grated cheese. Combine thoroughly and refrigerate until ready to use.
5. When you're ready to make your bread, preheat oven to 400 degrees.
6. Spread a generous amount of garlic butter over each half of bread. Set on a baking sheet and bake until golden brown, about 8-12 minutes.
7. Top with remaining 1 1/2 tbsp. cheese. Cut into slices and serve.