I know I never got around to Inner Knowing vs Practical Doing [Part Two]…but here is a piece of news deserving this interrupted space.
The first issue of my magazine, Somewhere Nowhere In My Kingdom, is now available via Joomag!!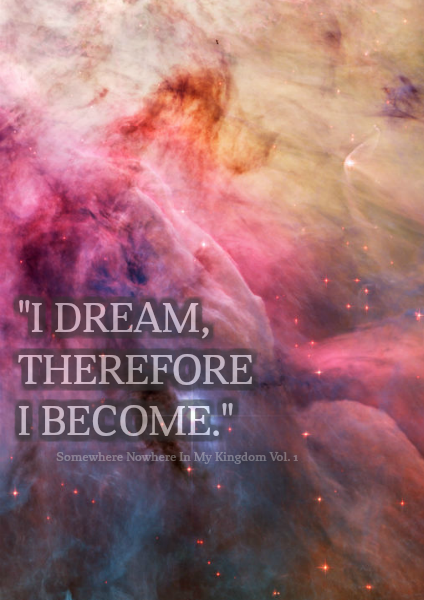 Click here for the first issue!! Somewhere Nowhere In My Kingdom Vol. 1: I dream, therefore I become. 
And if you follow my other blog, I'm sorry for the repetitive announcement. But I am quite compelled to broadcast it across my online empire. Indulge my self-indulgence, if you don't mind.
This first issue was not planned; it was a spontaneous occurrence, a convergence of creative energy and artistic momentum, born purely out of experimental fancy. I've always wanted something "of my own", and this is it.
At the moment, it is a collection of seven poems on the theme of dreaming. I would like to dedicate this issue to all of my subscribers and followers. Thank you for sticking with me all these years. Thank you for commenting and liking my poetry. It's one click for you but it means the whole world to me. Thank you for making me feel "seen". It's an amazing feeling knowing that somebody out there, somewhere, might just be reading the words I wrote.
So. Without further ado, here is the first issue of Somewhere Nowhere In My Kingdom, totally out of the blue!
And in case you missed the link, here is it once again!! :)
http://www.joomag.com/en/newsstand/somewhere-nowhere-in-my-kingdom-quoti-dream-therefore-i-becomequot/0818986001407734709
Love,
Kim