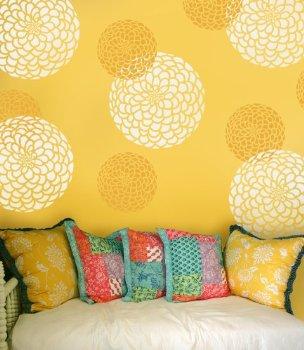 Get this fun and funky Zinnia flower stencil for your next wall art stenciling project! These large floral stencils make a stunning accent on a boring empty wall above the sofa or table, or above the bed or pretty much any wall space that needs some interest. Trendy and hip, these bold refreshingly modern wall art stencils will instantly bring color to a otherwise plain wall. Reusable stencils save you ton of money and make you feel proud of your creation, plus you can choose any paint color you want. The technique is easy and doesn't require artistic ability.
Single overlay flower stencil.
Sheet size: 24x24", Flower is 20" across
Please watch our How-to videos to quickly learn stenciling.
All of our stencils are made of thick, sturdy but flexible 12 mil clear plastic, reusable, easy to clean and stenciler-friendly! In our 20+ years of professional stenciling this material has proven to be far superior than any other material we used, including the industry standard 8 mil mylar.
This stencil works great for walls, floors, furniture and fabric for curtains, pillows, placemats etc.
Please check out our Facebook page to see pictures of other people's projects, get painting ideas and inspiration, and to chat with other creative DIY decorators and professionals!
http://www.facebook.com/pages/Cutting-Edge-Stencils/130488356769
Reusable stencil made of 12 mil clear plastic, easy to use and clean
Economical wallpaper alternative, great for accent wall, DIY home decor
Detailed Stenciling instructions with color photos plus Free stencil ($4.95 value) included
Step-by-step Stencil video: http://www.youtube.com/watch?v=xlzcVzPcnG8