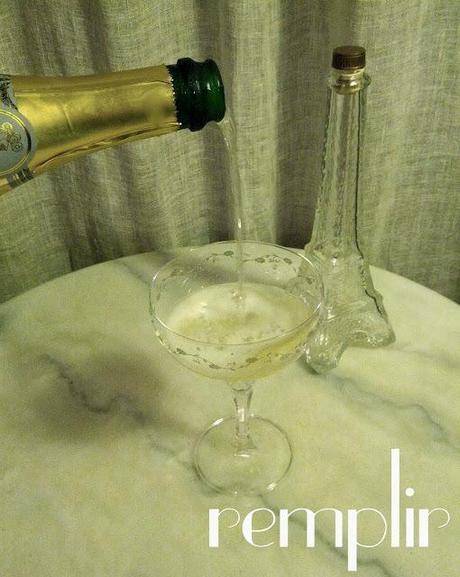 As I settle more into myself, I understand the somewhat important role that is making mistakes and try not to let them defeat me as they did in my younger years of youth. After all, isn't this how we learn? This seems to be the golden rule when tackling another language, especially during the less formative adult years. For those of us trying to blend in as French speakers here in Paris, the fun never stops in learning how to properly speak this demanding language where a new blunder is always just a sip of wine away. 
So today, at no extra cost (!!), I am offering a little French lesson for you new speakers, at the expense of yours truly with yet another one of my habitually embarrassing moments. It's almost as if I can't help myself. 
A word that is used with somewhat frequency is remplir which means to fill. Simple enough. This was one of those random words I had to learn "out in the field" ensconced in French living that goes in my book of household words that I need to know in order to communicate, mostly with my in-laws or with my building gardienne, for example. (Hammer, laundry clips, crusty mold, steam basket are also members of this good time group.)
In the film, excuse me, I mean, one of the greatest movies ever,  Mermaids, a bite-sized Christina Ricci asks a then-sane Winona Ryder
to "fill her up", meaning to fill up her glass.
Having recently revisited this movie last weekend as it is totally what kicks off my autumn season, I had somehow absorbed this expression, which has found itself kicking around my head like a pinball for several days. 
Last Sunday night, after tackling my first ever Sunday Pasta Feast, chez nous, Aurel and I stopped by his friend Thomas' apartment up by Gambetta for a glass of wine and his homemade rice pudding. (I love French dudes.) After catching up on our summer vacations, we reckoned that the warm evening out on his terrace demanded another glass, taking advantage of the lovely weather we have been graced with this week. Turning to Aurel, with the little shimmy that young Ricci does in the film, I demanded that he "remplis-moi" and held out my glass. 
The result: Thomas almost choked on his wine and Aurel, bless him, who is used to me and also watched the film, evenly said, "We don't say that."
Of course they don't. Fill me up? That's even questionable in English, but when holding out a glass and under casual circumstances can be easily perceived as playful. Well not so much in French, so please learn from me, and if you would like a beverage refill in the company of familiar friends a simple, "remplis mon verre
s'il te plaît" will suffice. 
This story had already made its rounds in our French circle of friends who find this far more amusing than my American mind can completely grasp. When offering an explanation, to me, it becomes less comical, but to our friends, I handed them fodder to last them until New Year's Day. Dirty minds, I say! I guess the French do only think about sex!