You all must be knowing G. Veda Vyass from the three posts he has written for us as a guest contributor. He is back again with an incisive post on higher education in the field of engineering in India. And, this time, he has written it along with his good friend, Vishnu Supreet. Vishnu too is an engineering student at Amrita University in Coimbatore. He likes computer hardware, is a die-hard Manchester United supporter and reads a lot of novels. Now, the stage is set for both of them to express their views. And, don't forget to read their blogs too (Veda Vyass and Vishnu Supreet). And please let us know your views in the comments!
Cheers!!
____________________________________________________________________________________
I am an Engineer. This has become such a trite remark of late among graduates who work at the congested BPO's and other consulting services firms. "If you aren't going to be working with machinery and circuits, why do you take engineering?" is a valid question you could ask. But, like how stupid goats are, if one goat falls into a trap, each and every one of the goat in the herd follows suit and makes its way into the pit.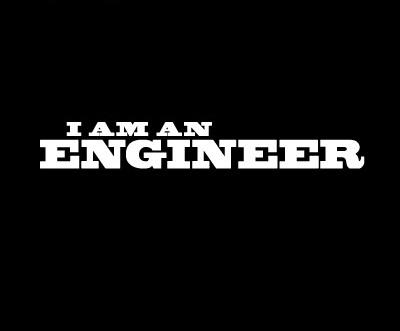 Are you sure?
A recent survey suggests that over 70 per cent of the engineering graduates in India are unemployable. What infliction do these graduates or the so-called degree holders suffer? Why are they not suitable for employment?
There are as many as 3573 AICTE certified Engineering Colleges in India and you can calculate the number of 'Engineers' graduating every year. But, are the things they learn during the four years put to any use later on in the jobs they do? The answer is a big NO. The Indians have four streams after they take up engineering :
B.E / B.Tech —> Work
B.E / B.Tech —> MBA —> Work
B.E / B.Tech —> MS/M.Tech —> Work
B.E / B.Tech —> MS —> Ph.D —> Work as a professor or a research analyst.
This trend takes a dip as the numbers go from 1 to 4. At least 50-60% of the graduates pick (1). The rest in the (2) slog their guts out to clear CAT to pursue MBA from a good management institute. A very few will want to pursue M. Tech or MS to specialize and write the likes of GATE, GRE and others and secure seats abroad in reputed universities. And, a handful out of the people in (3) persevere to research and for the cause of science do their doctorate. I still do not know whether these degrees are to impress relatives back in India in order to get a good match.
Jokes apart, we need to realize that students pursue engineering to serve the world, to reduce effort and to make things simpler. But, what if more than half the people warm their rolling chairs staring at the computer and typing away codes for some goddamn country? (Please excuse me for the arrogance).
"Education does not consist of passing examinations or knowing English or Mathematics. It is a mental state"
From an article in The Hindu (a leading English daily in India), "what was being done effortlessly by a fifth grader in the U.K. needed a commerce graduate in India". Of course the above does not imply that the British fifth grader is in any way as well read or as knowledgeable as the commerce student from India.No this means that the teaching methodology in India is inherently flawed due to imperfect delivery of curricula, the shortage of skilled teachers, inadequate supplementary reading, an archaic examination system, and the student's inability to correlate theory and practice. "Education does not consist of passing examinations or knowing English or mathematics. It is a mental state," said Jawaharlal Nehru. This failure is deep-rooted and is inveterate in primary schools and gets compounded at institutions of higher learning.
Even though India produces more than five lakh engineers annually, only 17.45% of them are employable for the IT services sector, while a dismal 3.51% are appropriately trained to be directly deployed on projects.With regard to employability percentage in different states, it was found that employability decreases logarithmically with the number of colleges in the state.This clearly shows that opening more colleges is directly impacting the percentage of employable engineers graduating every year. The employability graph slopes from the state of Bihar down to Tamil Nadu in the IT department.
I shall elaborate my findings with my experiences based on a 13 year relationship with my flawed education system, of which one year was spent majoring in Mechanical Engineering at Amrita School of Engineering.
When I was younger, I was fed the alphabets and I ate it up delightfully as I was both young and ignorant of the tirade of things I would eventually end up eating in an attempt to make it into a good college. Particularly the last two years when all I did was mug (Oh! I did not like it for one second, but I did not mind as I felt I had no other choice

).
Then, college started and I had hopes that I'd never have to mug again and again I was given a harsh reality check by Chemistry – not so much the subject as the teacher.
Then it struck me that no matter how much they change the subject curricula or the evaluation scheme, so long as the evaluation is being done by an orthodox sciences student (he is the teacher) who has no industrial work experience, Indian engineering colleges are doomed to fail in the long run.
Engineering at 99% of the colleges is still theoretical. It is Engineering, for Pete's sake and these godforsaken colleges believe once I suck in the text and barf it out in the examination, I become an engineer. Oh, please! I do not blame the system entirely nor do I say I am right and they are not. We form the system, and we need to equip ourselves on our own.
A year back, I travelled on road to Trichy, which is close to 300 km from Chennai. Trust me or not, I saw at least 50 'Engineering' colleges. I mean, accredited engineering colleges. Which means, an engineering college for every 6 km. What The Heck? These are like telephone booths on the highway? We have learnt that Asoka planted trees along the sides of the highways to help the travellers. People these days are 'planting' Engineering Colleges. How cool?
The work that engineering students are expected to do after earning their degree must not only be consistent with their level of knowledge but their skill. Knowledge may be imparted, skills can not, they are honed. And who better to teach us how to develop engineering skills than retired veterans from their respective industries. When we supplement normal engineering courses with the wealth of know-how garnered by these industrial specialists, it is not only bound to increase enthusiasm it promotes a lust to know more than what's written in books.
The very piquant flavour of engineering is lost. Engineering is no longer a royalty or a free ticket to the US. It has become more of an extension to secondary education.
Engineering – Why you no train students for the future?
19.075984
72.877656