घर वापसी (Ghar Wapsi) - Reverse Migration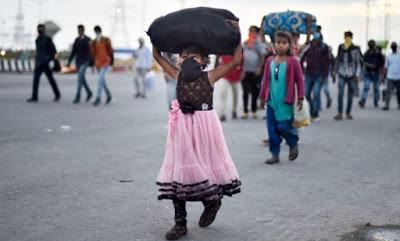 Once village people migrated to big cities in search of food and work because industrialization created opportunity there and big poor families can't sustain on small lands. Many were those landless labors whose land was grabbed by government for some projects. They all migrated to cities and settled here in spite of  facing many hardships because they were earning more from what they can earn in there native villages. 
But the unplanned lockdown amid the fear of community transmission of Covid-19 or Corona virus Pandemic has started Reverse Migration.Many migrant labors become job less/work less after the lockdown was announced. Daily wagers, rickshaw pullers and even those working in ,ills and factories soon started feeling difficult to survive in cities as they were not getting any payment and food. The arrangements made by many state government were not reaching everybody and if reaching they were not satisfactory. We can't even imagine how much they suffer to leave there 'Karm Bhumi' like that but I have tried to put their pain in words through my poem both in English and in Hindi. 
यूँही कोई घर छोड़कर नहीं जाता, घर सा सकून उसमें जब नहीं पाता, ज़माना ये दर्द गर समझ जाता, निज़ाम दुनिया का न उलट जाता। 
Yuhin Koi Ghar Chodkar Nahin Jata,Ghar Sa Sukoon Jab Nahin Pata,Zamana Ye Dard Gar Samajh Jata,Nizam Duniya Ka Na Ulat Jata. 
कैसी वो बेबसी रही होगी, बच्चों ने भूख न सही होगी, खुदा, सरकार सा न हो जाता, निज़ाम दुनिया का न उलट जाता।
Kaisi Wo Bebasi Rahi Hogi,Bachchon Ne Bhook Na Sahi Hogi,Khuda, Sarkaar Sa Na Ho Jata,Nizam Duniya Ka Na Ulat Jata.
बच्चे-बूढ़े भी थे,लाचार-बीमार भी, नंगे पाऊँ सड़के नापने को तैयार सभी,जीना,मरने से आसान अगर नज़र आता, निज़ाम दुनिया का न उलट जाता।
Bachche-Bude Bhi The, Lachaar-Bimaar Bhi,Nange Paon Sadke Napne Ko Tayyar Sabhi,Jeena, Marne Se Aasan Agar Nazar Aata,Nizam Duniya Ka Na Ulat Jata.


English Version: 
Nobody leaves home like this,Comfort when that home not gives,If that pain could understand world's imagination,there will be no reverse migration.
How much helpless they would have felt,when children's hunger they have dealt,If God wouldn't have government like transformation, there will be no reverse migration.
there were children-old,helpless and sick,everyone ready to bare footed walk for weeks,If life would have been easier than destruction,there will be no reverse migration.