The god of the internet is pissing me off. They control the most used searched engine on the internet, own YouTube, and also have one of the most widely used ad networks...Adsense. If you have a Google account you can utilize Adsense. Of course, it is up to Google if they will allow it or not. 
They do not like you to post ads on dating sites, porn sites, gambling sites and sites that promote alcohol or tobacco products. 
SO WHY THE FUCK is the Adsense ads on my blog sometimes promoting a fucking chinese dating site? Don't get me wrong, I think oriental ladies can be very sexy, but I don't think my wife would appreciate me dating one at the moment! 
I've had ads from Google on my site almost from day one, and the profit I have made from it is non-existent. When I started, the minimum that you were allowed to withdraw was $50. When I finally reached that amount, they had changed it to $100. I haven't reached that amount yet, it's been holding steady at 93.87 for months now, and it's no wonder with the ads they put on my site. 
I'm not complaining that I haven't reached that glorious threshold, I'm pissed at the ads they are showing. They don't want you to advertise on that kind of sites yet are advertising those sites on what I call a family oriented site... with a little profanity thrown in now and then, sorry!
Come on Google, SMARTEN UP! 
Ah well, just another day in the scheme of things going right down the shitter. You see the problem with Google is the only help you can get are from forums, I have yet to see a phone number you could call and talk to someone about what you're real problem is, because you have to wade through a pile of bullshit to find an answer to your problem in their forum, and most of the time the problem you are having isn't covered in a way that often will solve what it is that's wrong! 
Sorry for the rant folks, I'm coming down with the flu and was hoping doing a little bitching might take the pressure off my dayum head! It hasn't, think I'm going back to bed ... AGAIN!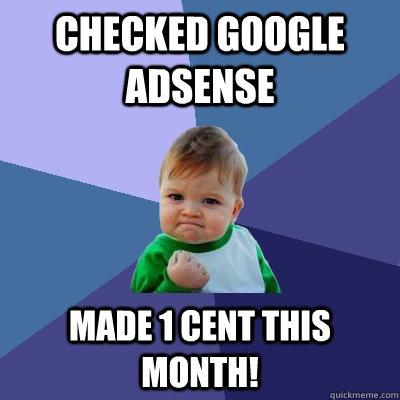 BB84CBJNBGNM