I was busy with some major changes over the past month and got so close to renaming my blog - This Auditor Used to Have a Life. You may be asking, what has kept me so busy. I traveled halfway around the world aboard several planes and across different airports for more than 24 hours to a new place which, I guess, I will be calling home for the next two years at least. I was thinking that it would be not just the longest, but also the most boring trip I'll ever have. Don't get me wrong. Plane rides thrill me, but a 24-hour plane ride and several airport layovers? What am I supposed to keep myself busy with? You got it! Food, of course! Here are the meals which saved me from boredom. :)
I had two meals on the plane which took me from Hong Kong to London. We left at night so my first meal was dinner. I had British Airways' yummy chicken and mushroom casserole. I guess, in-flight meals aren't that bad after all.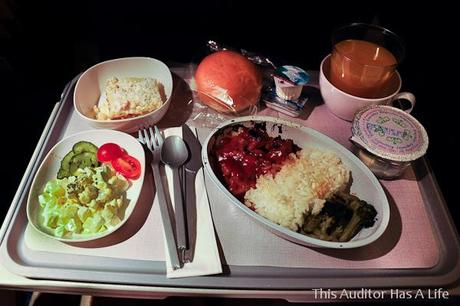 I started watching one of the in-flight movies they had but I didn't even get to finish it as I dozed off after having my dinner fill. I was still in dreamland when a pretty stewardess nudged me and asked what I was having for breakfast. I then realized I had been sleeping for several hours and it was morning already. I chose the English breakfast which had hash browns, a sausage and scrambled eggs in it. The hash browns and the scrambled eggs were tasty but the sausage was quite bland for my taste. I guess I'm just missing the sweet Filipino longganisa.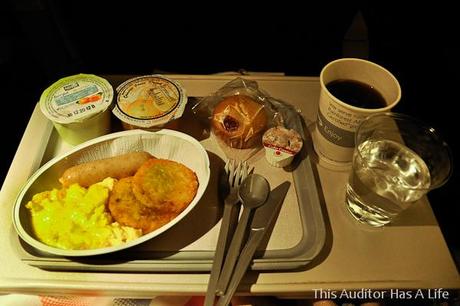 My last meal was the one I had on the flight that took me from London to Bahamas. We got stuck at the airport for several hours due to the strong winds brought by hurricane Sandy. Geez, the flight got delayed by about half a day. Onboard, I had beef and mashed potatoes plus pasta on the side. I wasn't sure though if the food tasted great or I was just too hungry after the long layover at the London Heathrow Airport.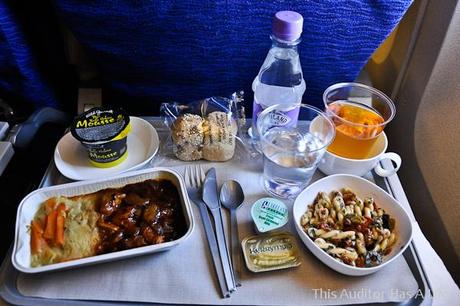 I guess traveling for more than a day really wasn't that bad after all. Three full meals, yummy snacks, several plane rides and various airport layovers got me safely to my final destination and new home halfway around the world. Can you guess where it is? :)