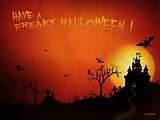 Striding past the unpredictable seasons,
There comes the winter in lead;
The season for halloween.
Neither a place for merry go rounds,
Nor for the faint hearted.
Inviting dominance and risky situations...
As it drives one mad with its spine-chilling aura.
Ghosts frightening,
Deep breaths,
Loud shouts.
Chilling noises haunting,
And pumpkin heads laughing at you,
But if high-spirited you are,
Get amused by it
So an experience of halloween is a must,.
For the old and the young.