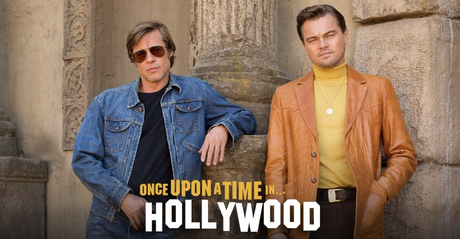 There are some movies that you watch, enjoy, and move on from. Then there are those that you watch, wonder if you enjoyed, and then contemplate that question for the next six days (and counting). Guess which one "Once Upon a Time ... in Hollywood," is? Of course, I'd expected nothing less from the latest film from Quentin Tarantino, like 'em or hate 'em his films tend to stick with you.
This latest adventure in cinema heads straight to the source of the inspiration of most of Tarantino's films, classic Hollywood. The adventures of the fading (fictitious) star Rick Dalton (Leonardo DiCaprio) and his (loosely based on a real person ... and a little sketchy) stuntman Cliff Booth (Brad Pitt) are closely intertwined with some very real, very tragic, and very much rewritten Hollywood history.
But if you go into this movie without the knowledge of that (slowly raises hand) it's going to take you a while (slowly brings hand back down) to feel like the story is really going anywhere.
That's not to say that the ride (sometimes very literal) is not amazing. We meet the likes of Bruce Lee (Mike Moh), Steve McQueen (Damian Lewis), and Sam Wanamaker (Nicholas Hammond).
Then there's Sharon Tate (Margot Robbie) and Roman Polanski (Rafal Zawierucha) ... Rick's next-door neighbors. And if you're well-versed in your Hollywood history, you can probably see where this going. I learned a lot.
The film has spawned a whole slew of conversations surrounding Brad Pitt's character and a question or two that rather intentionally remain unanswered, namely - did he kill his wife? And I could write for days about the pros and cons of his character, but instead, I'd like to talk about my favorite sequence - Rick Dalton filming his scenes as the villain in an episode of " Lancer."
The whole sequence, including a rather deep conversation with his eight-year-old, method-acting co-star (Julia Butters) is practically perfect, but there's a moment when they reset for Rick to have another go at a missed line that is absolutely beautiful. As the director calls for a reset, the audience perspective becomes that of the cameraman and it is immersive, intimate, slightly disorientating, and wonderful.
So, going back to the question posed at the start, here's where I've landed. At the end of the day, those film-loving details are why I like Tarantino movies. It's definitely not the gore, the stories can get a little raunchy for my taste at times, but you can tell he loves the art form and the history of it. "Once Upon a Time ... in Hollywood" continues that tradition beautifully.
...bi-daily smile...