Ours was crazy!  Last week (Saturday) started my farmers market season. So besides juggling the pt job, by the end of June I'll add three farmers markets a week.  I'm not sure about this....
this Saturday night had me up till 1:30a getting everything ready, though that was my fault for not getting my butt in gear sooner in the day.  We had a house guest for the week, K's first dog Maggie, came to stay while K's parents headed off to Bermuda. Yes, I was crazy jealous. Maggie's an old girl who can't move so well, and needs to take nightly walks, and had to have pills, and yada, yada, yada. We loved having her, but now she's back home, and we'll have an easier time. 
I've been remiss writing in the blog. Sometimes,  it's just cause I don't have anything to say. Sometimes its just laziness. I'm not a huge picture taker. I have dog's, not kids (yet)  and though they are adorable (!) they don't have many mile stones to share. Though I am very proud of lady this week. She got out and when I called her back, she came. Which is a huge deal. So yay! 
So though it seems like not much is going on, we've been busy. I hate to say it, but I feel that posting will be sporadic at best. I'll put forth more effort, but I promise nothing.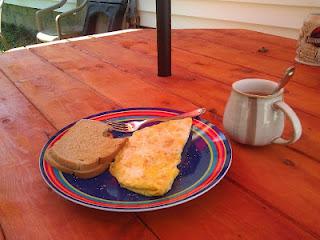 Breakfast on the new picnic table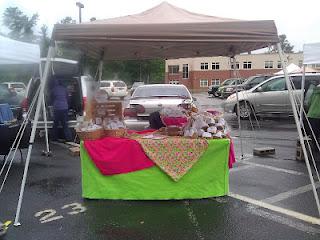 1st Summer Market in Delmar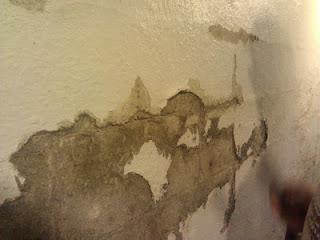 Starting to work on our Basement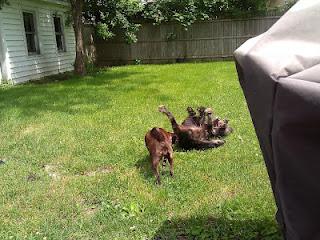 Pups in the Sunshine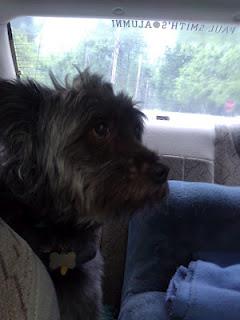 Maggie on the way to our house!
Here are some photos from this past week, see we really did do something!