Suddenly she saw him everywhere...
"I will haunt you forever," he used to tell her always sarcastically to look at her reaction and would laugh.
25 April, 2012. The next day was her wedding. Her parents had arranged the three day wedding function in a grandiose manner with the whole town astonishing at its sumptuous way. However the center of attraction was the bride. She looked radiant and ravishing in her engagement dress which was offered by the bridegroom's side. Everyone out there was expecting the next day. Two people, who were distant in their hearts, were going to blend into a single lovable life. Was it going to be adorable?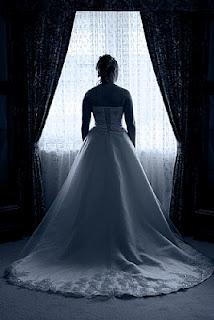 She again spotted him laughing, "Why are you sad? After all, you are the bride!" He seemed a little sarcastic. She was on the verge of bursting out. Tiny bubbles peeked out from her eyes and she urged to control it. He again mumbled, "I kept my word." She asked him, "What did you tell?" He ran away. She couldn't spot him for a while.
She went to her room flooding with his memories. She was exhausted and was hyperventilating. This left her rattled and even a little peevish. She watched the happy face of her kith and kin from the portico of the first floor. She also watched his face and his eccentric reaction. It was raining cats and dogs outside. The lightening and the thunder petrified the little kids. Suddenly there was a huge crowd calling her name. She could hear them but couldn't respond. She had fainted hitting the ground floor before people came to catch her. Everyone went dazzled for a moment. It all happened so quickly. Ambulance arrived and she was taken to the hospital. Doctors couldn't do anything. There was a massive heart attack which caused her death. Every one of them was devastated. Everyone returned to the places and in a short time, the wedding function turned out into a death one.
Two days after the remorseful happening, her mother went to her room and she switched on her daughter's laptop. She browsed her drives to check what could have caused her to be pressurized? Indeed there was a document named "Rahish." Her mother knew that he was her daughter's bestest friend.
February 2, 2004:
  Saw this guy named Rahish.
  What a talkative one?!
  Chatterbox.  
June 15, 2004
  Talked to Rahish for the first time.
  He is a chatterbox. I find him fascinating.
  Time ran fast today with him. Became his friend in FB.
October 28,2005
  He sent me a "Hi" today to my mobile.
  I got his number from his friend a long time ago but I didn't text him. Ego.
  Waited for his text! And he did today.
  He is so much energetic and exuberant.
  Msgd him for a long time.
January 18, 2006
  Today is my birthday. He came to my home early morning to wish me.
  I loved his gift. An earring. A simple yet an amative present for me!
  Spent only a small time with him. It was my fault.
  I was waiting for him to become close with me. Now he is.
  But I am keeping distance from him.
March 25, 2006
  Today is his birthday. 
  He sent a text to me requesting me to accompany him for morning train. 
  I purposely caught the next train to his. I loved it whenever he got angry.
  I loved it.
  But I couldn't avoid him today as it is his birthday. He became so close to me.
  In other words, I became so close to him.
May 17, 2007
  We were chatting for the entire day. The whole day.
  He said today "I won't marry anyone else other than you!"
  I replied, "I won't marry you! A prince is waiting for me!"
  He told me, "Okay! I too will marry a princess and not you!"
  We mocked at each other enjoying the envious look on our faces.
September 25, 2009
  Two years ran so fast after our college. 
  He always tells me that he likes me a lot.
  I am not sure if he is so much in love with me to accept me. 
  I am not so brave.
  We will be so good friends always.
April 5, 2010
  He isn't opening his mouth. Neither me! Oh Goddamn it!
  I couldn't resist. I am not brave. I like him a lot.
  It would be so ideal if we live together. But I am so much frightened.
December 22, 2010
  Now-a-days, He started telling this often.
  "I won't marry anyone else other than you!" But then he used to tell this.
  "I told that just for fun! You must like me na!"
  "I will come for your wedding!"
   I am so much frightened.
July 12, 2010
  "Do you have anything to tell me?" I asked.
  "I like you a lot! Nothing else. I will haunt you forever."
   Silence.
August 19, 2010
  He died today. Yeah it was an appalling accident. 
  Death has taken Rahish from me!
  I don't know what I will do without him?
  I am heart-broken! Save me!
November 8, 2010
  I didn't talk to anyone for the past two months.
  I am broken beyond repair. I loved him a lot.
  Did he too? 
He did!!! 
I have his mobile now! 
  Saw a msg in his drafts which was intended to be sent  to me.
  ""I love you a lot! I wanted to be with you! Can I? 
  Will you include me in your life?
 I am afraid.
  I don't know what you have in your mind?""
  I loved you idiot. You didn't tell me!
April 17, 2011
  My parents are asking me about my marriage. 
  Everyone around me asked the same.
  I am not ready to be the better half of some one else!
  I don't want marriage!
September 30, 2011
  My parents have fixed my marriage against my refusal.
  Please, I don't want.
  Rahish!
  I cried. I cried a lot.
December 24, 2011
  My engagement today. I hate it.
  Shit!
March 8, 2012
  He kept his word. He didn't marry anyone else.
  But did I?
April 24, 2012
  Day after tomorrow is my marriage!
  Rahish why didn't you take me away with you?
Her mother cried. She cried a lot. When she intended to close the document, there popped a small box with a message "wait". Something was updating. She fainted after seeing the document. There was an additional note.
April 27, 2012
  I kept my word. Rahish is with me here!