This weekend Markus and I celebrated four years since our
lakeside wedding at Winfrey Point
. We love to mark each year by doing something out on White Rock Lake, and I gotta say, this year's kismet comedy date experience was the best one yet by far.
We've canoed,
paddleboarded
, biked and picnicked in years past, but this year we took it indoors and up a notch culture wise when we went to the Bath House Cultural Center to see Matt & Ben by Echo Theatre.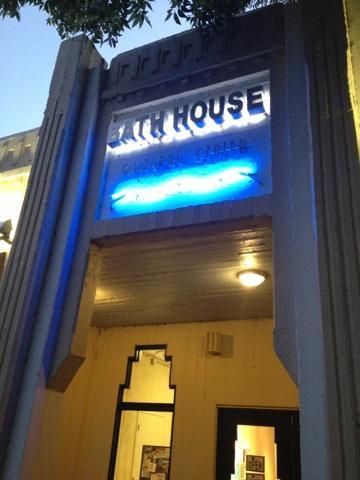 I love all the Art Deco at Bath House Cultural Center, and the pretty observation area in the back!

I am a big fan of Mindy Kaling, who wrote and starred in The Office and now has, in my opinion, one of the smartest and most progressive show on television with the sickest wardrobe and set design, The Mindy Project. It is one of very few shows that I have to religiously watch. Her book,
Is Everyone Hanging Out Without Me? And Other Concerns
is one of my all-time favorite comedy books. It was there I learned that Kaling was first discovered when she wrote the play Matt & Ben with her friend for a project and it was so popular that it continued to be held over and won awards at festivals. I had no idea the play was available for local theatres to produce, and knew I really wanted to check it out when I read that Echo Theatre was running it. The play is about how Ben Affleck and Matt Damon came to write Good Will Hunting, only the two roles are played by women.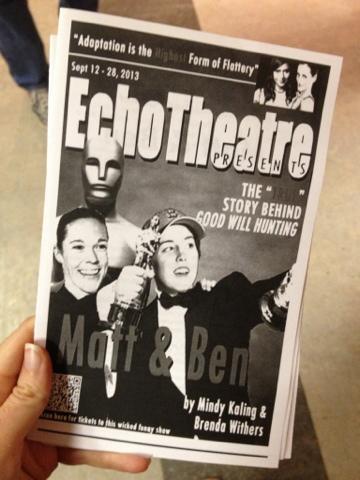 Straight talk - this play is the funniest shit I have ever seen. The concept and writing are whip smart, and the acting is incredible. You could not cast two better women in the part in any way possible. It was so crazy how much I felt like I was watching Matt Damon and Ben Affleck just by watching these two women! If you are able between now and September 28, I would seriously beg you to check this play before it closes.
Matt & Ben is one act and a little over an hour, so a really easy night of theater to fit in as part of date night or girl's night out. There is free parking, and tickets are really affordable with $25 at the door Friday and Saturday (save $5 by buying in advance online!), $15 matinees, $10 student rush and even a pay-what-you-can Thursday night option.
 I am so glad that this show was running during our anniversary weekend so I was even more tempted to go! It is one of the funniest things I've seen in Dallas and every detail was spot on. I hope you are able to make it as well!