I tried out IHOP yesterday for the first time. The kiddies fancied more of a brunch than a lunch so we agreed on pancakes.
Alooia and Oodie ordered the 'funny face pancake'. In the picture it seemed cute and looked to be fresh strawberries, fresh cream and a buttermilk pancake.
This is what appeared..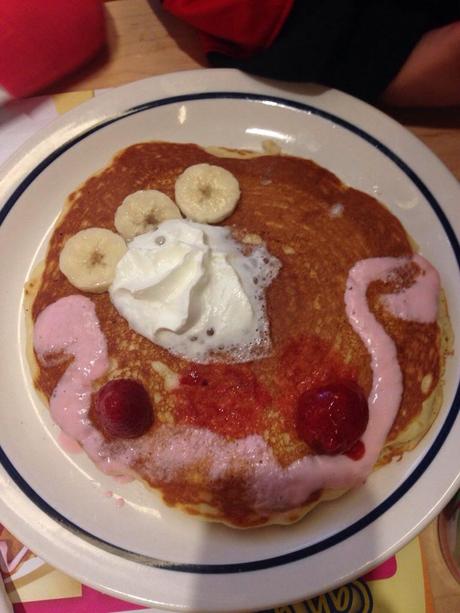 This doesn't look to (TOO!!!

)funny to me, nor them, Oodie said, 'that's not funny, it's a scary mess'. He's 3. If a 3 year old realised it, why didn't the chef.
We also waited 30 minutes for our appetiser which was one bowl of soup. Everything ended up coming together after 34 minutes and we were told 'we are very sorry there was a problem in the kitchen' to which I replied, 'but yet the next table have had three courses already.' The server informed me that 'that table came in before you Madam'. The funny thing was, I liked the lady's handbag so I had noticed them come in 15 minutes after us. I let the server know that 'that table had infact come in 15 minutes after us'. He then just apologised and told us to enjoy our meal. We had yet to be given knives or forks.
It was a horrible experience and I was thoroughly looking forward to it as I had heard some great reports.
I had a mushroom and spinach omelette and it was delicious and I would go back again but hopefully the waiting time isn't as long and inshallah, next time they remember the cutlery!