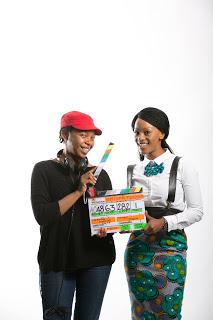 My business partner, Stephina likes to say, "filmmaking is an extreme sport", and let me tell you, she isn't lying. We started our business about 5 years ago. We were starry eyed and totally convinced that we would each be multi-millionaires within a year. Cute, right? Well, I can report that we are not quite multi-millionaires yet, however, in the 5 years that we have been running our business in the South African media space, we have learnt things that not even the world's best MBA could have taught us.
This blog post is dedicated to some of my favorite tweeps on Twitter who asked me to blog about producing films, the lessons we have learnt and what advise I would give to aspiring film producers out there. So here goes. 
My first disclaimer is for anyone reading this to note that I am only writing about our personal experience of making films. Other people may have completely different views to mine. My second disclaimer is that; we are still new to filmmaking. We have to date only produced 2 films together, and only one of these films was a cinema film with investor funding. So my anecdotal evidence is limited to these two films, and also loosely based on conversations and advise that I have gathered from our other filmmaker friends. 
We made our first independent film in 2016 because we were inspired by the Nollywood style of making movies. That just "get it done, by any means necessary" attitude helped us get out of our own way, and just try something that we were not sure would necessarily work out. This project is close to our hearts but it did make us broke. However, it is in my opinion, our most important project to date. It opened our eyes, ignited our passion for telling our stories, it sharpened our resolve, introduced us to some incredible crew and it taught me one of the most important lessons that we as producers need to learn quickly; and that is that making a film is a business. You need to at some point, be able to get more income from your film than what you are going to spend on it in money and time. I think sometimes as creatives we put this as the last thing that we hope to get out of the project. On the other hand though, every experienced filmmaker that we spoke to about this project said one thing to us; "Never use your own money to make your film." It is good advice. Now we know. 
So, you're an aspiring filmmaker and you have an amazing idea that you're sure the world will adore. But have no idea where to go from here, right? Many people have asked us how one goes about financing a film.  Who offers funding and what you are required to show them in order to procure said funding. 
To answer this, I will talk about our second film, Baby Mamas (2018). This was our first big budget project, and by big I mean only R5, 8 million. This we now know is actually not a big budget for a cinema film. But it is a great budget for emerging filmmakers wanting to make a high quality film. The fund that we applied for is the Emerging Black Filmmakers Transformation fund, and it provides a fantastic launching pad for young filmmakers to learn about film financing, distribution and managing the many moving parts of a film project, but still feeling relatively cushioned by the 3 bodies that are part of it. 
These are the
Industrial Development Corporation (IDC)
, the
National Film and Video Foundation (NFVF)
, and the
Department of Trade and Industry (DTI)
. 
This fund is a combination of soft funding, a rebate and equity funding.
The financing of any production can be an arduous process. We found it to be long, expensive for us as a small business and just really hard. I would advise that you stay open to finding other ways to making your film, because the truth is that applying for funding from the government is NOT the only way to make films. Furthermore, the reality is that, this funding will never be enough for absolutely everyone, so you will get rejected a couple of times. Most importantly, I must mention that THIS IS NOT FREE MONEY. You have to pay it back, with interest. As such, it can take a long time to make any money from your film because you have to pay the funders back in full before you can get into profit and pay yourself. After working on a project for over 3 years, sometimes even longer, this can be heartbreaking. 
To successfully qualify for such funding there are a couple of boxes that you will need to tick. Compliance is the big one, and then you will also need to 
present your Film Business Plan so that they can see how much is needed for development, pre-production, your shoot, post production and distribution. Included in the Film Business Plan Package is your Concept, your team, the film budget, your proposed shooting schedule and you will also need to show that you have worked out a marketing and distribution plan. In addition to this, you will also need to convince your potential investors/funders that you can make a return on their investment. Unless you have done this before, or you are an accountant, this is quite challenging. They will also ask you for film revenue projections. This is research on similar films with the same budget so that you can get a low and high estimate on how the films did at the box office. So you will need to get a distributor onto your project. 
There are a number of government initiatives in South Africa that offer funding. The ones I mentioned above are just some of the main ones. You will need to do some research and see which one works for you. A good place to start your research is on the NFVF website. The NFVF provides film and video-related funding in the broad categories of Education and Training; Development (of feature films, documentaries & TV Concepts); Production (of feature films & documentaries) and Marketing & Distribution.
There are also film commissions in Gauteng, Cape Town, KwaZulu-Natal that can also offer some finance or facilitate various funding options for you.

I hope I have given you a lot to think about when it comes to the official funding channels. It is by no means an easy process, in fact I am starting to believe that it doesn't get easier no matter how many times you do it. However, the government has tried to create avenues to get new players into the industry- something that you don't find in other countries, so you must at least try to tap into this help offered and apply, apply and apply. 

Just so you know, we were rejected twice for Baby Mamas and it was only on our 3rd try that we finally got funded. So don't give up until something gives.  

Now go make those films!