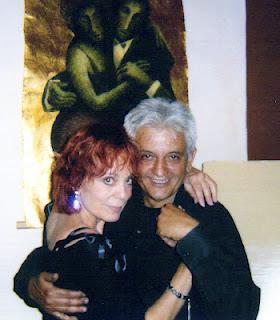 Painting by Jan Rae
Look what came out early this month! 
Dear Fund Your Life Overseas Reader,
Cherie was having a tough time.
She had just won the fight of her life against cancer, only for her husband to pass away.But this plucky American wouldn't be beat.Today, she has a new life—and an exciting new overseas career to boot. Greg Lucre
Editor in Chief, Fund Your Life Overseas* * *L.A. Librarian Trades in Books for Tango Shoes
By Cherie MagnusI've always loved to dance. I studied ballet as a child. I've directed my own belly-dance troupe. In 1997, I finally discovered tango—and I was hooked.When I dance, I feel most like myself. And these days I get to do it all the time as a dance teacher in Buenos Aires, Argentina, passing on one of the most beautiful dances of all—the tango—in the place where it was born and is still at its best.But it took a long time to get here. Over a decade ago, before I left the U.S., things were tough. At 55, after treatments for two bouts of advanced breast cancer, I had to take early retirement from my job as a librarian. At the same time, my husband died, and I was caring for my mother with Alzheimer's. Then the building where I lived was sold, which meant my rent tripled. That was the last straw…I had always liked Buenos Aires, having visited many times on vacation to dance, and I knew that, since the economic crisis in 2001, it had become a lot more affordable. So in 2003, I packed my bags and made the move with my cat to the Argentine capital.I was excited about living in the mecca of tango. In Buenos Aires, you can dance almost 24/7.I was enjoying life in the city, renting a place in the Caballito neighborhood and studying the Argentine style of Spanish. I attended Toastmasters and Pilates, and I volunteered with the homeless at the Anglican Cathedral downtown.Then one day at a milonga (tango social dances) I saw Rubén Aybar dancing. I could see that he expressed the music the way I felt it. When Rubén finally asked me to dance with him, we clicked perfectly. I had never wanted a dance partner before, as I enjoyed dancing with different men. But Rubén is so creative, musical, and original in his improvisation, I soon became bored dancing with anyone else. We entered the Buenos Aires Tango Championships in 2006 and finished 13th out of more than 500 couples. I was the only foreigner to make it past the semi-finals. After that people asked us to teach.We started with occasional private students in our home studio or in rented studios with larger groups. Then we broadened our services to include accompanying people to milongas to introduce new dancers to the culture and environment.A lot of visitors come and go from Buenos Aires without ever seeing the true social tango that has been danced here for 150 years—they only see tango shows for tourists.And teaching has allowed me to stay in Buenos Aires despite inflation. I rent an apartment in the quiet barrio of Boedo. I've also just written a book, The Church of Tango: a Memoir, published by Mirasol Press. Rubén and I plan to continue sharing "our" tango with our students for as long as we are able.