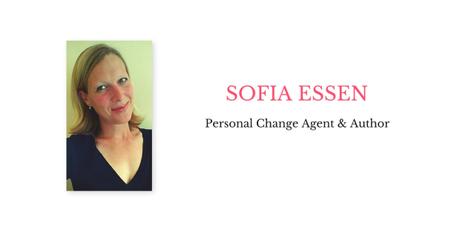 Hello there!
My name is Sofia Essen. I was born in Stockholm but I left Sweden with my parents when I was nine years old. For the next twenty years, I lived in the Middle East and Southeast Asia. Now Athens is my hometown.
I'm a Personal Change Agent and author of two novels. Change is my forte. Growing up on the move taught me to welcome and embrace change. Guiding people through major transitions and helping them create their own vision of success is my job and my passion. My motto is: "Think big, start small, and keep going."
Writing is my second job. I write stories that I hope girls and women from all walks of life can identify with on some level. The characters I create deal with major life changes, struggle to get back on their feet again after personal setbacks, and work on finding the courage to discover who they are and what they want in life. Why have I chosen to write about these topics in my novels? Well, it has been said that an author should write what she knows. Changes, setbacks, and self-discovery are issues I'm familiar with. I've experienced them myself on a personal level and as a Change Agent it's my job to help other women deal with similar matters.
What else can I tell you about myself? Let's see… My interests are many and varied. International politics. Fashion. Global business developments. Entertainment news. Science and technology breakthroughs. Health and fitness. Basically, I'm interested in discovering everything that the world around me has to offer.
That's all from me for now. Have a great day!
– Sofia
P.S. Some links:
You can find my blog HERE
My Professional Website
My Author Page