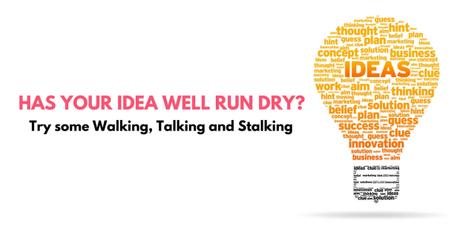 Hello there,
It doesn't matter who you are or what you do, a fresh idea never hurt anyone. I often stumble upon my best ideas while walking, talking and stalking.
Walking
Walking is the one form of exercise that I can honestly claim to enjoy. Not only does walking keep me reasonably fit, it also jump-starts the idea factory in my brain. My feet go on autopilot as the workers at the idea factory roll up their sleeves and get to work.
Talking
Talking and listening (listening is just as important) to people often sparks an idea I can file away in my mental "ideas folder" and use later. And, if I already have an idea, talking to someone I trust and respect can help fine-tune it.
Stalking
Okay, "stalking" is a strong word. Research might be a better term. My point is that following and keeping up to date with other professionals in your field who have successful careers can help you get useful ideas for how to further your own. And then you have to put those ideas into practice to see what works for you and what doesn't. The only way forward is through trial and error and some further trials.
Bottom line: If your well of ideas has run dry, get walking, start talking, and do a little stalking!
That's all from me for now. Good luck with your next idea!
– Sofia