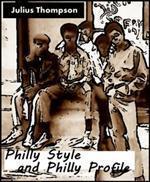 Wow! It feels incredible that I have two of my books on Audio Books..
Laura Jackman did a wonderful job with Jumpstarting Your Inner Novelist that I co-Authored with my editor Dennis DeRose.
Roger Wood did a fantastic narration in bringing my novel, Philly Style and Philly Profile to Life.
Please check out my audio books on Audible, iTunes and Amazon.com.
Philly Style and Philly Profile: Philadelphia streets were never silent. Gang wars on corners, screeching cars on avenues, and squealing steel trolley tires on tracks kept you alert for the next confrontation. The playgrounds were sometimes silent. These were sanctuaries where you confronted your deepest memories; places packed with people, but were virtually empty on late summer mid-days. Streets that were made habitable again by the actions of a few good men.
Ordering Audio Information:
Audible:
http://www.audible.com/search/166-4110991-0848005?advsearchKeywords=Philly+Style+ad+Philly+Profile
Amazon:
https://www.amazon.com/Philly-Style-and-Profile/dp/B01M3Y6683/ref=tmm_aud_swatch_0?_encoding=UTF8&qid=&sr=
Jumpstarting Your Inner Novelist: Jump Starting Your Inner Novelist is a concise manual that provides inspiration, motivation and practical tools for crafting award-winning novels.
Ordering Audio Information:
Audible: http://www.audible.com/search/ref=a_search_tseft__galileo?advsearchKeywords=Jumpstarting+Your+Inner++Novelist&x=14&y=22
Amazon:
https://www.amazon.com/Jumpstarting-Your-Inner-Novelist/dp/B01MG8PASM/ref=tmm_aud_swatch_0?_encoding=UTF8&qid=&sr=