Well my little girl turned 11 months old March 1st....I am still trying to get over the fact that it has been 11 months that we have been blessed with having her. Each day she is growing up right in front of my eyes and learning to do so many different things I expected at this age. It has been the best gift to be able to see all this while I am home. She is walking more almost at the stage of trying to run while she walks lol. She knows how to clap her hands and when we say "Bella Clap" she totally understands what we are asking and will start clapping her hands. She has been slowly starting to say "hello" and it's just the cutest thing to hear. She also knows where her mouth is when we ask her and a few other things. This daughter of ours is just the smartest little girl ever!(yes I know all parents say this...but she is lol).
So seeing as my little one is 11 months, that also means that her first birthday is just around the corner in a few weeks and I have already started on her special day. I am just so excited for this day and I have so many ideas. I may not be the most creative person in the world(I really am not lol!) but I am going to try my hardest to make this day so special for her. I know she wont even be able to really comprehend what is going on that day, still doesn't mean it wont be the best first birthday she will have.
So to start I bought the cutest invitations from this great shop on Esty(this site is the death of me)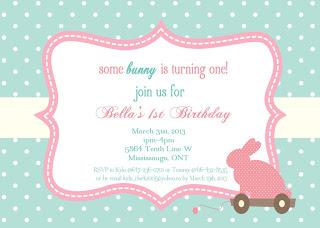 love this invite!!
So as you might be able to tell by the invitation her birthday theme is Bunnies. Her favorite stuffed animal for awhile has been a bunny. She understands the word and always knows where her bunny is when we ask her where it is.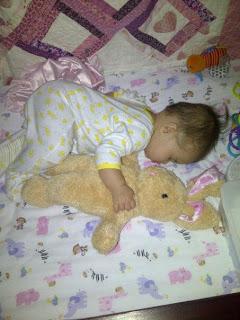 I also ordered her birthday outfit but I will be saving those pictures for later on for a surprise. I thought I would share some other ideas I found on Pinterest and will be trying to create myself. For one of the desserts I am going to be doing a carrot cake(thanks to my aunts bf's recipe) in squares with little carrots on the top like this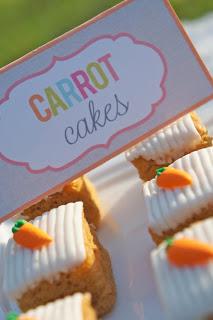 For the main dessert I wont be buying/making a cake, I will be going with a cupcake option. Something I can make and cheaper on the budget lol. We will be spending on a huge cupcake for the birthday girl though so she can have her own special cupcake. Below is my dream idea of what I wish her cupcakes will look like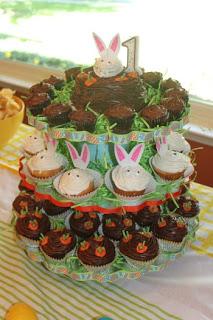 If the above cupcakes don't turn out like this or if I cant do half of this my next step will be to try and do this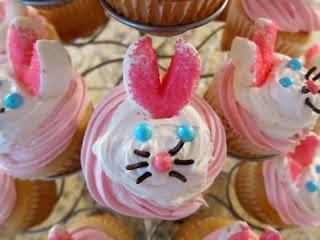 If these two options are an epic fail, which they might lol, I will be going the easy way out and just doing this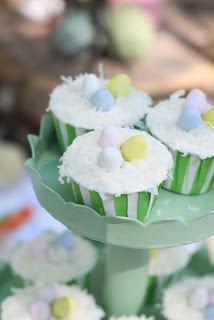 The above will for sure be the easiest I think I will be able to do and I might add the marshmallow's bunnies I have already bought and put them on top also. I love cupcakes and I am so excited to make them and have the little one have her own special one. 
I will also be using a few ideas for this. I am loving the tags of what each plate of food will be and love the carrot and celery idea.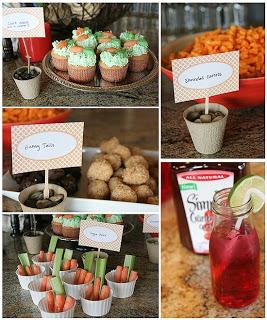 I am just so excited for this party and I am even more excited to share this special day with all of our family and friends. It is going to a fun day with good food and great company. I am excited to share with you all ideas I will be coming up with over the next few weeks.
Until Next Time XO