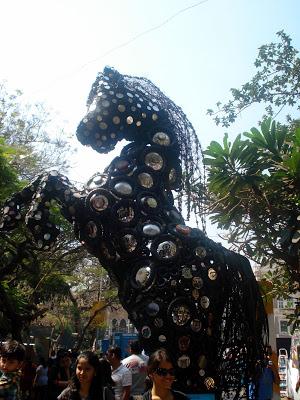 Kala Ghoda festival - an extravaganza of art culture, a celebration of art music and other art forms, platform where new ideas meet old thoughts and ways to create setups that can keep you under their spell for quite some time. A nine days long festival that showcases the cultural diversity of India is held every year Mumbai during the month of February and I felt quite lucky when I could witness this amazing display of talent and art.
What can you say when a huge a black horse made of wires, speaker woofers and tires greets you to a festival named after it? Kala Ghoda features installations varied from technological cars to environmental issues and social issues, pavement shows, exhibitions of paintings and sculptures, literary events, film screenings, music concerts, dance performances, theater shows, workshops, heritage walks and food fiesta, and last year was no different. Stalls of artefact from all the states of India had its own charm and colourful appeal but most of all, them being set up in one lane made me proud of my country that celebrates unity with diversity. A sea of people, from every corner of India, rejoicing in the environment that respects their love for art and a food fiesta, savouring every delicacy of India just grips you tight. How often do you get to see and make clay pots, the potters' way, in a huge city like Mumbai or policemen, who spend most of their life making you safe, displaying the magic of their hands through paintings and photography? Could you imagine a huge lantern made of Bisleri bottles or a levitating Buddha made of sand? Well Kala Ghoda had it all. Artists like Vishal-Shekhar duo, Sunidhi Chauhan and Shankar-Ehsaan-Loy also made this sea of people ripple and wave to the rendition of their tracks and love for the festival.
 And that's not it; there were street shows like walk a rope, lagzym, puppet shows, a number of folk dance performances and many more. And in the end, it gives you to gift yourself a souvenir of art – a portrait of yourself in pastels or paint with a promise taken that you will surely return. Truly speaking this versatile festival has a lot offer and a lot to share, and for art lovers like me well its nothing less than arty heaven on Earth that promises newer surprises to art and us every year.
So if you are in town this winter from 2nd to 10th feb do sing to the wind with the horse of the city. Be there and be a part of the KALA GHODA festival.
Some installations of last year that completely mesmerized me…
A Beetle car build completely out of e-waste- transistors, IC cassettes, keyboards, can and metal bottle caps and cherry on the cake – red mouse served as its head light.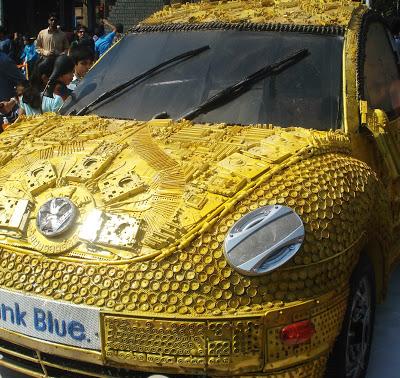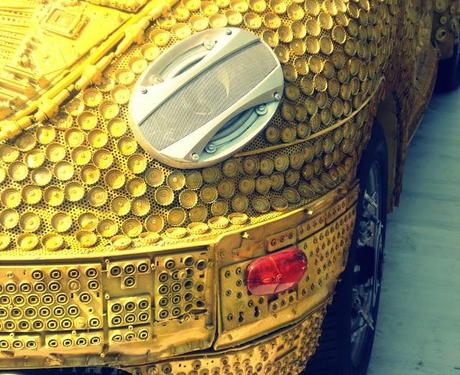 Noise pollution- an ear meditating, radiating power of silence and an ear tortured by a couple of honks clearly depicting ill consequences of noise pollution.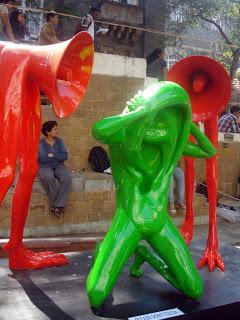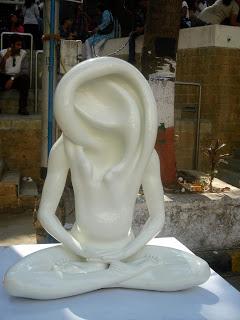 CRY's spoon wind chime- Perhaps it was the cutest and most touching installation urging all to fight under nourishment little by little. Every sound of clink that the wind caused just spoke of innocence and of every name written on those spoons.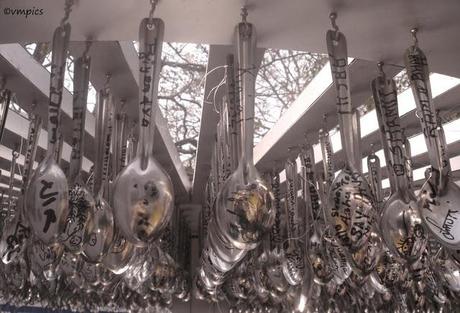 Cigarette stubs on a bloody ash tray made of human bones. What better 
way to convey the message 'Smoking is injurious to Health.'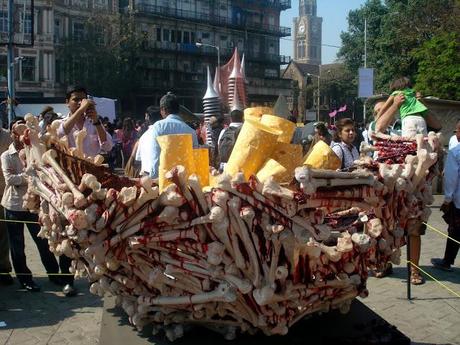 Cutting chai something so genuinely a part of a Mumbaikar was also highlighted by a huge pyramid made of the chai glasses.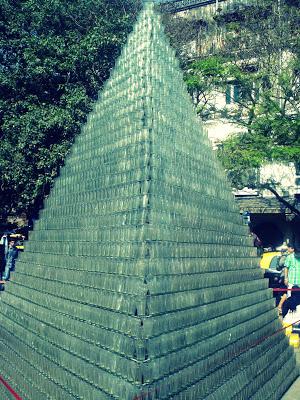 -Vaisakhi Mishra

Photo Credits - vmpics