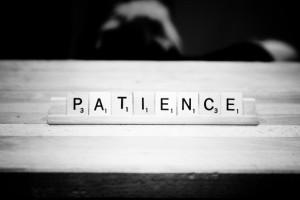 Patience, they say is a virtue. But I don't want to bore you with this cliché because I am sure it was the first thing that came to your mind when you saw the heading. How many of us are patient really? What did you do when you were asked to wait on a queue that was too long, and you decided to turn back? Remember that time you were at the bank and the line was too long and you just decided to go home? Or that time when you were too hungry, and you couldn't line up at KFC because it was too long? Well don't worry; you're in good company. I have also been there, and one even happened to me recently, but I won't tell you where it happened.
A wise man once said:
''Each season of our lives has a different emphasis, focus and beauty... each season yields its own unique treasures''.
Amazing isn't it? Take a second, maybe two or maybe a minute and think about it. It only means that in every phase in our lives, we have to be patient, patient and patient. In each phase, there is a treasure. It only takes one person to find it. YOU! What is it that you've been expecting for a long time? The man to find you, or the job, or maybe you set so many goals this year, and you have only achieved one or maybe two at most.
The ability to focus on the beauty of each season seems challenging, but it isn't impossible to do so with GOD once we focus on him and not our circumstances.We won't always achieve all the goals we set in a calendar year or in our lives too and this is a harsh reality. We all started this year with statements like ''THIS is my YEAR!'', ''2015 on FLEEK'', ''I CAN TASTE GREATNESS THIS 2015''. Well, 2015 is everyone's BIG year isn't it? It's the year everyone chose to accomplish great things. But in reality, 2015 sets the foundation for some goals to be achieved in 2016 or even 2020. So don't feel discouraged when you don't achieve some set goals for this year. Most of us would be in panic mode already. OMG! It's already June, and I haven't achieved a lot. Be PATIENT!
I just want to encourage anyone reading this by saying that you should enjoy whatever this season brings because it has an end. Look on the bright side.
GOD BLESS YOU.
Ecclesiastes 3v1 The Message (MSG)
There's an opportune time to do things, a right time for everything on the earth