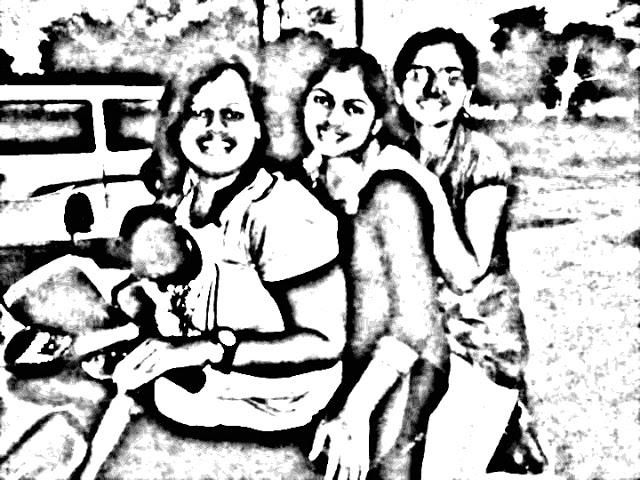 Tripcy ( Three in one bike). 
Whenever we (me and my friends) do tripcy I drive as I am very comfortable and easily able to handle a bike with three people.

I can't Forget one memorable tricy of ours. It was 31st December 2009. I and two of my friends (Renuka and Sandhya) we planed will watch a movie and celebrate the last day of 2009. The movie was "3 idiots" an Indian comedy drama film directed by Rajkumar Hirani. 

At 31st December's afternoon Renuka came to my home and we both go to

sandhya's

home. Sandhya was not ready, so we waited at her home then after 20 minutes when she gets ready three of us egress from her home. When we came out Renuka asked me will you be able to  manage three in one bike. I said yes. Within 10 minutes we arrived at movie hall. Only five minutes left to start the movie. I hurriedly go to the ticket counter to buy tickets. Tragedy part; we dint get the ticket as the movie was going houseful. Three of us we laughed a lot and we were thinking now where should we go. Suddenly an uncle who is sitting at a ticket counter call us and told us three people canceled their ticket we have tickets available.
We bought tickets and finally we saw the movie, It was an awesome movie. It also has a tripcy scene, We were not looking who is sitting beside us We were just enjoying the movie. "Bole to tabla tod movie thi , idhar udhar dekhane ka time hi nhi tha.... :D "
Then we go to civic center to eat something. Sandhya said lets go to my home as nobody is in my home. Three of us on the way we were thinking that "khub masti karenge" but but at her home also a tragedy was waiting for us. 
We arrived sandhya's home, we were very happy "ki masti karenge, dance karenge, gossip karenge". Sandhya was looking for keys as she was expecting that door would be locked. 
Now the tragedy part the door was not locked her mom opened the door we entered we saw her younger brother is studying, suddenly her younger sister also came from kitchen side, Sandhya asked her where is dad her sister replied he is in the inner room. Everyone was at home. "lo kal lo baat"
"Aaye haye fir to humaari shakle dekhne layak thi" on that time an old song came in my mind "kya se kya ho gya" hehehe.... :D
But we enjoyed a lot.  While driving also we had fun.  Overall the day was full of tragedy and comedy. One of the memorable day of my life. I will never forget that day..... :) :)