Last week I found these small peppers in Tesco. Today it dawned on me that I should use them to make mini stuffed peppers to use as a side. They went down a treat.
Ingredients:
Small peppers
Cous cous
Cheese
I use sachets of ready seasoned cous cous that simply need to be added to 200ml boiling water and left for 5 minutes. So I did that first and then set to work on the peppers.
Take the tops off of the peppers and empty all of the seeds out. 
Wedge small chunks of cheese into the bottom of each pepper. 
Spoon cous cous into the peppers.
Add another chunk of cheese to the top of each pepper.
Bake in the oven at 200 degrees for 20-30 minutes.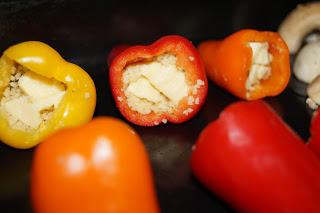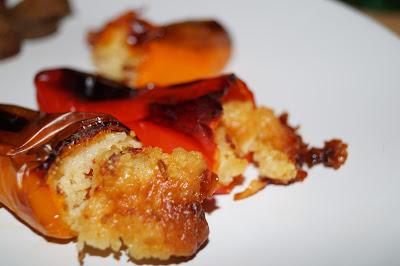 Notes:The filling does ooze out a little and the cheese on top becomes very crispy. If you were to take the seeds from the "lid" and cook them with these on then the cheese wouldn't become so yummy!If you can only find big peppers then simply half them, remove the seeds, fill with cous cous and top with cheese.