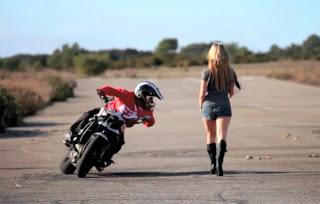 It's amazing when he's there
     Smiling his cheeky smile, he stares
That stare he gives,
it says
"You're all mine," and that he cares..
Euphoric am I
    as he rides me home
His body sleek, his accessories smart
His machine roars
    with a thunder,
That matches with the beating of his heart
He can win all he wants
He goes through fire and storm
He's amazing when he rides
He's amazing - the way he keeps me warm
He'll be a puppy-eyed baby
Demanding all my care and attention
And I'd be happy,
and then
Throw him back into delusion
He finds his way back
Being his amazing self again
He makes me go through all the pain
Never alone, he holds me in the rain
And then,
      he'd laugh it off
Just to put a smile on my face.
And then,
      be his amazing self yet again
By being who he really is.