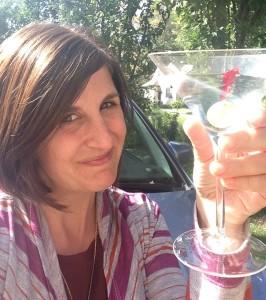 Me, my martini and my minivan all say thank you.
You know that drunk girl at the end of an awesome party. She's the one who is falling all over the place and saying things like, "Where we goin' to next?" as she stops to vomit and half-wipe her mouth.
No one wants to be that girl.
No one wants to stay at a party just a bit too long and have the night start to go very wrong.
So it's time to leave the party. To end while I'm buzzed, happy and not wanting to go streaking in my granny panties & beige bra.
I'm shutting off the lights to Martinis and Minivans.
I started this blog a little over three years ago at the exact moment I needed it. I needed an outlet to write about the crazy human beings I birthed. I need a place to call my own. I needed to find the confidence in my words.
And you all gave that to me. And for that, I'm eternally grateful.
I have loved each and every comment, hilarious observation and personal email, Tweet or message you have sent me. I have treasured the times where I felt like I had an outlet for my frustrations or a place for people to help celebrate a joy together. You have been my cheerleaders and my crowd of laughter.
Thank you so much for that.
But now it is time for me to focus on other projects.
I'm freelance writing, working on books, doing television work, finishing graduate school, and my children are starting to read, which makes writing about them unfair. I can only tell my daughter so many times that I'm writing about a different little girl who picks her nose and stores her boogers next to bed. She isn't falling for it anymore.
I've thought about this a lot and it's coming from a place of peace. It's time for me to step away from the computer and not just write about my life, but live it more.
BUT I'M NOT GONE COMPLETELY! I'll still be on social media. You can still find me on Facebook, Twitter and Instagram! (Though don't freak out when you see that I'm changing the names on the account to reflect Danielle Herzog rather than Martinis and Minivans)
And I have created a personal author page that I'd love for you to check out. It's www.danielleherzog.com. And that's where you'll find any book and career updates.
Thank you. A million times thank you. Thank you for making me feel special. Thank you for laughing at my jokes. And thank you for letting me share my life with you. I feel honored to have been given the opportunity.
I raise my martini to you all. Cheers!