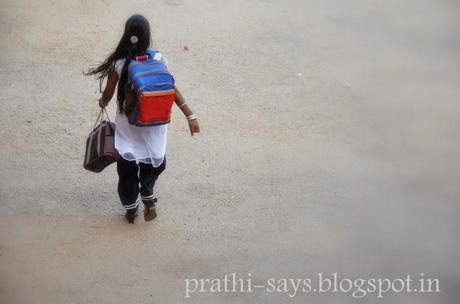 Few years back there was a girl who was a class clone, bullied and laughed always on and she was the only kid with poor grades in every subject. She was sent out of class one day for not knowing how to spell "SKY" she went home crying and she complain that people made fun of her grades .when she was about to give up, he was there watching her back and that day he told a story which changed that girls life..
There was a humble and quite kid always with big dreams. Only hire of the Throe but he had no Kingdom to rule because he was from streets. His Strict father always told him to earn and a mom who always felt helpless. Most of his childhood he served his parents well, sometimes nursing his sick mom or cooking for his dad. He studied in government school with only 1 set of uniforms and always barefoot. He always had trouble learning alphabets so he was put in Kannada medium a Regional language..He was a kid who saw his father's other side but always took his words as a new quest. He was always active as a kid but then came the twist..
It was college in 1960's well that college was English.being from local school his English was never nourished and he had math's, physics and everything else to be written in list ..He almost gave up and thought of listening to his father and working in local store. But his always sick mom inspired him to read more..well guess what his hard worked paid him off and he got his prize.. A" Medical seat" but that was a high road and far from his town..So his father said No bcoz he had No job to pay him to do medical.He begged all his relatives for help but nothing clicked but still his mother's hope pushed him ahead. he somehow got money to travel but that was never enough.
His achievement was a way for new life with everything as a fight. Well he was a kid from streets who was starting medicine and that might sound Inspiring but the ugly side he had nothing to eat or wear or even pen to ink. but again his hard work was blessed with scholarships well that was enough for him to seat on those college desk and learn to save a life. After a year of struggle came a help from his uncle who sent him only 100rs once every 2 months and in that he had to buy books, Cloths and food with in a price or starve for nights and he use to sleep on his lab coat under his bed and  in morning it was almost looked ironed. He had 2 set of cloths for 4 years and he use to hide them inside his lab coat. Every day with no fail, he was a joke for rich kids and their life made him weak but he never gave up. He had few friends who were a struggle like him. When there was strike in mess he had to sleep empty stomach for days. And finally off his struggle he finished his college with a Medical degree but no work in his hand. After years of search he got a pay of 500rs every month ...he was alone yet his life was fine but no luxury in his name. He sent his pay home and saved some for his own. But god was not done with him yet so he introduced him to someone special.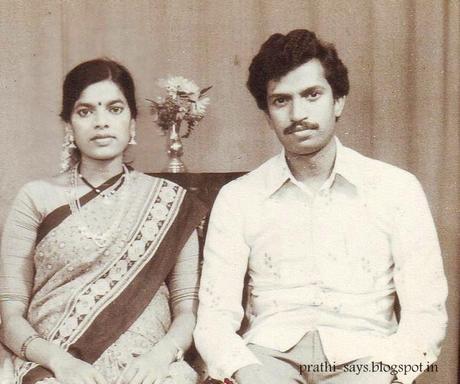 They were 2 love birds who were from north and south. .difference was their world  and nothing matched, religion to language everything crashed But with lots of drama and struggle of 70 's they got married and then he struggled for stable life. Parents rejected his marriage after being blessed.
with his wife he went to far town and started a new life. with just 800Rs every month in his pocket they felt alright. than years went by and came the big 2 news of his life when his little baby boy giggled he read a letter about his father's last breath. He left that night and came back home with his mother. he didn't leave her alone to suffer, he took care of her but she still disliked his wife and they always had to fight he stumbled btw 2 ladies in his life, but never complained and then came a good news, a cute baby girl with beautiful smile and then everything was falling in place but he was never at rest ..
Work was his life and coming back home was for more complain and fight. He stayed late in hospitals working day and night and he saved so many lives. He educated people around him and paid for their school fees, he helped people in need but he was never at peace. Years went and finally came the time of 90's where he learnt his typhoid infected wife was 5months pregnant and he could only save either mom or the child. He decided to abort his wife bcoz there was this girl inside the womb who was doubted with life and he couldn't dare orphan the other 2 children. But his wife took the risk and then came the little head. Who was declared dead bcoz she was weak and just seven months young but he being the doctor saved her life and well named her Prathima . ..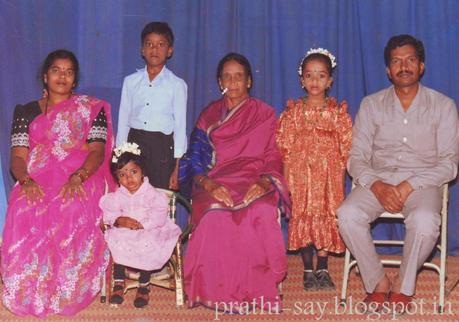 family pic
10 year me was just feeling curious but I understood something, that my dad is special and he stood by me always and papered me but he also help me built this beautiful life ...
He is my real life hero, he inspire me the most. He accomplished so much and till today he swear by his profession. My dad was always a struggle even after 2 heart surgery he is still the same young boy. Well he is now 65, this June 15th he ll be 66 and still he keep himself busy working and I swear by this to my death, his patience is his best talent I would say , He never scold or hit or gave up on us, ever! and till date he bare me, he is simply my Precious :).
 LOVE YOU LOADS DADDA YOUR THE BEST
 AND 
HAPPY FATHER'S DAY
AND 
HAPPY BIRTHDAY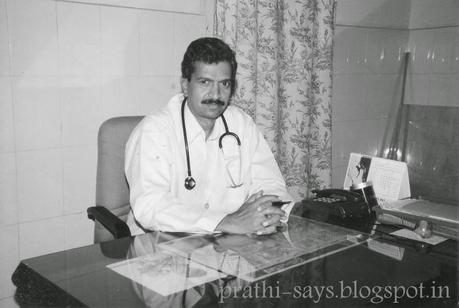 He is my pile of wisdom and strength.His story always inspires me to believe great.He guides me back to my sense.Few lines he write which explains me life."Never complain or blame because that only leads to more loss and pain".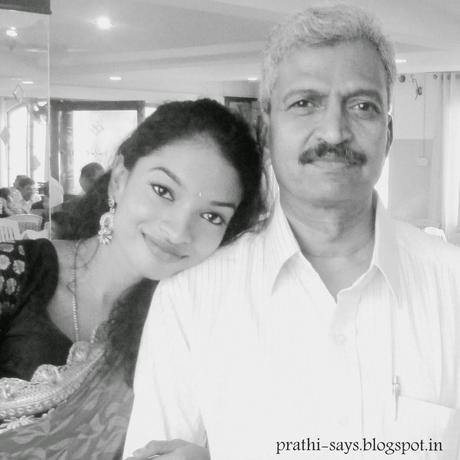 If I'm something  today you know who is the inspiration and he is not just my role model he is my father.
P S yes I'm a per mature baby :) if your wondering ..
P S S: 
This post is as a part of 
Celebrating Men Who Make A Difference!
I am writing about 

#MyRoleModel

 as a part of the activity by 

Gillette India

 in association with 

BlogAdda.com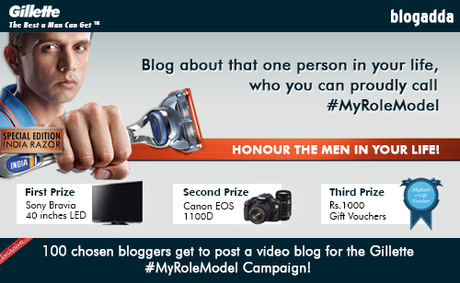 Thank you Blogadda