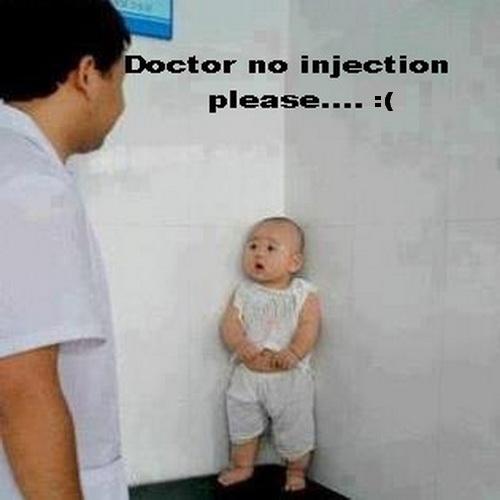 Cutest pic I found, the baby is so cutie-pie.
I just reminiscence
 my childhood days; when I was a kid I just gave same look when I got to know the doctor is going to inject me.
I just tightly hold my dads hand and insist him please can we go home. I remember lots of posters were on the wall at the doctor's clinic; my dad just says look what a beautiful poster and when I turned to look that poster doctor briskly insert the injection

uhu

uhu

 poor me... :'( :'(
Whenever I have to visit a doctor I beseech to god "no injection please". Even I supplicate to doctor uncle to give only tablets or syrups but no injection ok; but doctor uncle or I can say devil uncle he always injects.... "ufff chhote bachche ka to koi sunta hi nhi hai" 

Whoever invented these vaccines (injection) I would like to punch them huh!!!!