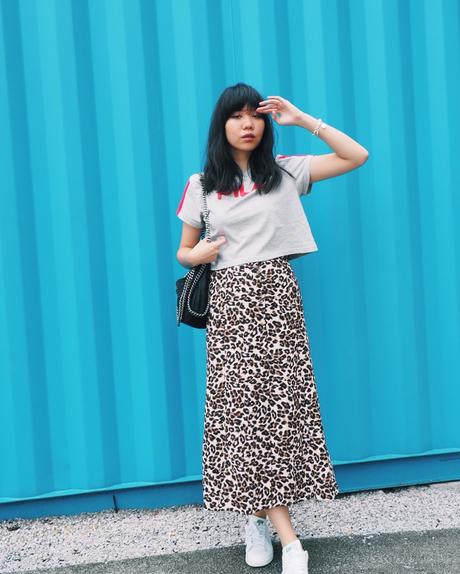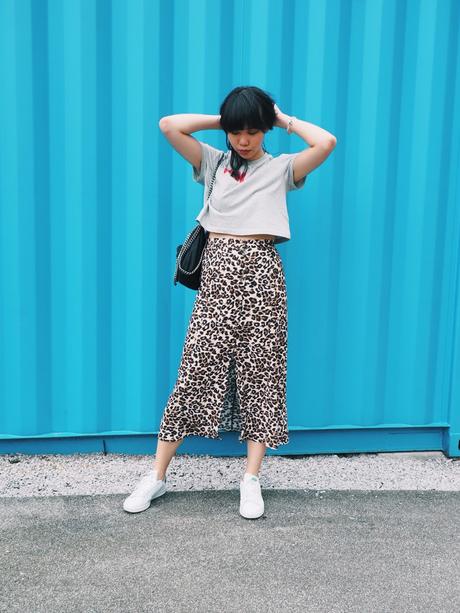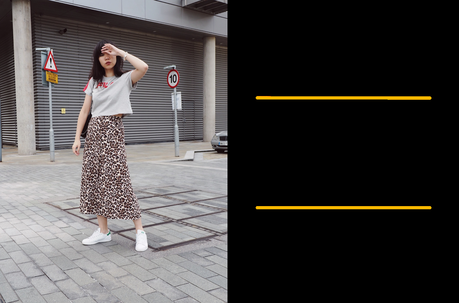 skirt, urban outfitters/ top, FILA from TKmaxx (similar here and here)/ necklace, H&M/ bracelet, tiffany & co
It's been a while since I had the spare time to sit in the sun with my Spotify discover playlist playing in the background and just being able to write freely on my blog just like the good old days of 2015. I finished my third year exams mid may, on my birthday actually. It seems like months ago but it's only been two and a half weeks? I didn't do anything OTT for my 21st, nothing like wining and dining at the Shard or going out out but just a bloody nice BBQ with my best mates. I came back home to Manchester just last Wednesday. I was greeted by the rain (obviously) and also my parents who came to pick me up from the station, because let me tell you, it's true what they say about the amount of shit you accumulate from living out.
I love British summer (despite often complaining, I am British after all), but I'm well excited to be heading off to Lisbon in a weeks time and then straight to Belfast to see one of my all time fave bands, Lany, at belsonic festival and Hong Kong for the first time in 3 years. Ever since I was a little 'un, I'd always take a trip there with my family every year or so and the last time I went was just before I moved out to start uni so you don't understand my excitement for all the glooooooorious food and the little things that I've missed such as the sound of the pedestrian crossing lights.
I've also got a fair few favourites of mine to share that I've discovered recently. First up,music. There are certain songs I can't hear even the first few seconds of without being transported back to the exact time in my life that I remember playing it or how I felt when I was listening to it (

'come on over'

by

coasts

is a particularly potent one). If you haven't heard Post Malone's new album then where have you been?! Better now, over now and zack and codeine are 3 of my particular favourites. Listen to my other faves on my spotify playlist here for a piñata of indie rock anthems and summer vibes. You carry on pouring that aperol. I'll wait. Secondly, I've been obsessed over th

e IT cosmetics cc cream,

it has a delightful coverage that makes my skin look dewy and airbrushed as well as its ever so appealing SPF 50+. 10/10 recommend. I have the shade 'medium' and I suggest applying with a brush for the best outcome!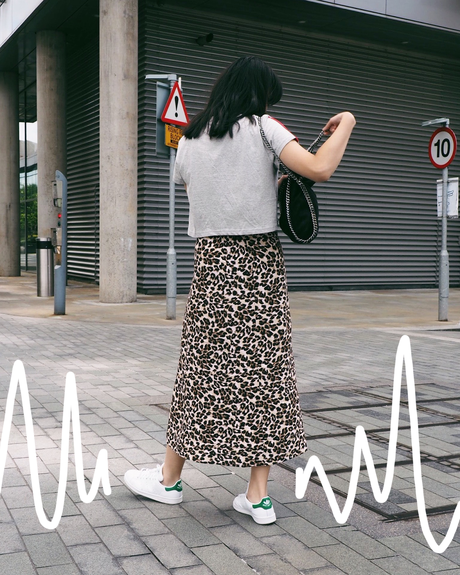 I've also been very much enjoying listening to a podcast by Pandora Sykes and Dolly Alderton, The High Low. I love listening to their witty dissection on society's taboo topics and current affairs especially when I'm not in the mood for prancing around to music getting ready in the morning. A fashion favorite of mine are these white stan smiths, which BTW looks mint with a cracking tan so you can bet your bottom dollar I'll be wearing them all summer. I have been pining for a leopard midi skirt for so long now after seeing them styled with trainers and a simple t-shirt by bloggers on pinterest and instagram. This one from urban outfitters was no exception with a button down front so the height of the slit is fully adjustable, *wink*. It also has pockets! Albeit not very practical and probably just for novelty as placing your phone would immediately drag your skirt down and feel uncomfortable. Leopard print can be combined with so many different colours: red, lilac, yellow, orange, pink.. etc the list goes on, which is why I love styling this feline print so much and how it's so versatile. It is essentially one of my wardrobe staples.
That's all for now. Thank you for reading and let me know what you'd like me to cover! I'll write soon, it'll probably be about Lisbon the next time you'll hear from me. Oooh how exciting.