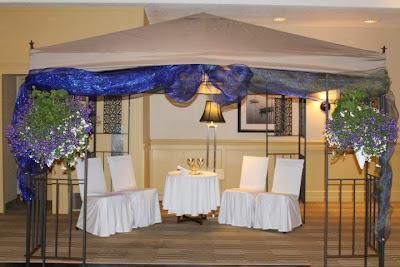 I got married on June 3rd, just a few days ago. If you are interested in how the interfaith wedding finally turned out, the short answer is: really really well!
If you want the longer answer, keep reading :)
It was in a hotel in Halifax. My fiance, his parents, and a few aunts and uncles flew down the Thursday before. My parents and siblings and I stayed in the Penthouse Suite on Saturday, and a few of my relatives drove into the city on Sunday.
I really wanted it to be small, relaxed, casual and fun. My fiance really wanted it to be pretty, and to meet the cultural expectations that would make it seem "legit."
That being said, we really did our own thing. It turned out to be really unique, and we both really loved it. The hotel had a really nice (newly renovated) banquet hall located just off the main lobby. You walk through these glass doors into a separate  foyer. We set up the bar and bartender here, and there were washrooms. Then  you go through big double doors and there was a big banquet room.
We set up one for the ceremony and the other for the reception, but left the partition wall down. It looked really great. Just a few rows of chairs since it was a small wedding. At the front was the chuppah. It was a garden gazebo that my mom thought of and picked out. My Dad got up and put it together at 7am the day of the wedding. I  helped a little. He even thought to not screw the pieces together, but rather use tie-wraps and it went up pretty quick. We hung two bushels of flowers - blue and white from the front corners of the gazebo. My mom thought of and picked out these metal and wicker flower holders that looked like cornacopia - and then she sprayed painted them the color I wanted.
My favorite part of the gazebo was the ribbons. My mom found these big mesh wiry things. One was royal blue and sparkled blue. The other was a similar royal blue, but turned gold when the light hit it. My Mom and my mother-in-law worked together in the morning and made a bow with the two types of mesh (they sorta look like tulle from a distance). We pinned the mesh bow right in the center of the gazebo and then had each type mesh going to each side. The blue/gold was to represent the Nova Scotia tartan, and the other was to represent the colors of Israel. It even worked out that my family sat on the side closer to my ribbon. The parents even took those sides, so during the ceremony me and my Groom were right under the correct representative ribbons.
Under the chuppah/gazebo we placed 4 chairs for the parents to sit during the ceremony. There was a small table with the goblet of wine and "glass" for the Groom to smash at the end. Outside the gazebo was a larger table and two chairs for us to sit at to sign the registry.
At the back of the room was a gift table with a really pretty "card box" that my Mom designed with wrapping paper and gift bows. There was also a guest book (I bought from the fair trade store 10,000 Villages). Then there was a table with our wedding programs which described the cultural elements of the wedding to help out our guests, plus yarmulkes (kippot) that my father-in-law picked out and ordered and had the Bride and Groom's names and wedding date embroidered onto.
There was also a memorial table for my Grandfather who passed away 5 months ago. I had a framed picture of me and him, a little seashell/starfish themed candle, and a paper (that matched the wedding programs) that just gave his name and birthddate/deathdate.
At the last minute, I was also inspired to create another project which was to post the wedding photos of our families. So, there was an easel with a big poster on it that showed the wedding photo of my parents, marternal and paternal grandparents, and my Groom's parents and both sets of grandparents. What was really cool was that neither one of my grandmothers were married in wedding dresses. Both were married in blue dresses that were knee length.
All along, I thought I was radically for rebelling against wedding "traditions" They aren't even traditions in my family!
I had a paternal cousin who got marred in the same hotel, in the same room as me - just the day before. His wedding had all the chairs covered in fancy white chair covers. I wasn't going to have that for my wedding because it was an additional cost. But the night before my wedding, it was offered to me for complimentary because it was more work for the hotel to undercover the chairs. So I was fine with it. And it made it look way more fancy.
So that was one half of the room.
During the ceremony, the reception side was open, so people could see the raise head table of 2 with mini lights, and the raised cake table with a pretty pretty cake that my sister's friend made and was given as my sister's wedding present to me. I strongly requested not to have a cake topper, and even thought we only needed 1 tier, my sister ordered 3 tiers "for fun". It was white fondant with royal blue swirls.
Then there were the circle guest tables, which I think were super eye -catching. The hotel supplied white table clothes, and then we rented royal blue overlays. In the center of the table, we rented small square mirrors. In the center of the mirror, we placed a small round vase ( .99cents at Wal-mart) with one blue hydrangea (I cut the stem super super short right before the ceremony). Around the hydrangea the mirror, we scattered several seashells (my niece helped me collect at the local beach) and a few azure and clear rocks (from Michaels and Wal-mart). Hydrangeas need tons of water, so my Mom got these awesome little beads that we put in the vases. They absorb and slower release more water. We put them in the morning of the ceremony and by reception time they looked like the glass beads on the mirror and looked awesome. I had this "imagine" for centerpieces in my head for months and wasn't sure others understood. So I made one "sample' table in the morning and my parents-in-law replicated and did all the other tables, plus added seashells and rocks to a few of the other tables. The hotel added all their fancy stuff. Oh, and there was an easel with the seating chart done up in the same theme as the programs.
Now, that's how everything looked. So how did everything go?
Awesome. On Saturday we checked into the hotel and the Penthouse Suite was awesome. I tracked down my fiance and his family  for a little while. I saw my cousin's wedding and then partied with some aunts and uncles that came in for both weddings.
Once everything was set up on Sunday, it was already 9am and pictures were at 10am. My sister did my make up, my Mom did my hair. There was no time for hair spray because I wasn't ready until 10:15am and my Groom and the photographer were waiting. Thankfully, my attire was really no fuss. A-line ivory dress with no train, an ivory jacket my sister found at FairWeather that perfectly matched, a seashell necklace I already owned, and silver sparkling slide on sneakers. Yes, sneakers. Oh, and a $6 sparkling headband from Claire's. No veil on me - they are nothing but translucent burkas.
So I grabbed my cream colored purse with my money for vendors and my cell phone, and I grabbed my homemade bouquet - which was yarn pom-poms hot glued to wooden dowels and wrapped in electrical tape and blue ribbon, and sprayed with hairspray. I took an Irish linen my Aunt bought in Ireland and stuffed it into my Groom's pocket, and we took off for photos.
We went to the Halifax Public Gardens and it was amazing. It was an overcast day. I haven't seen the pictures, but it was really fun taking them. Then we drove back to the hotel and took photos with my family and my Groom's.
By the time the photos were done, the speakers were set up, the technician was checking these out, and my family was partying in the penthouse with the aunts and uncles and guests from my side. The bartender had everything set up outside.
Unlike Christian weddings, the bride did not hide until the grand entrance. Unlike Jewish wedding, there was no bendeken. Both the Groom and myself walked around and greeted people. Most of the photos were taken in the hotel lobby, so we were right there to great guests. We had a brief meeting with our two officiants - one Jewish celebrant and one Unitarian Lay Chaplain.
Around 12:50pm, the sound technician started playing some music and I went to the foyer to let people know they could start coming in. I was hyper and happy. Everyone kept asking me if I was nervous and I kept saying, "No, it's just a party. Let's party!" It actually worked out really well that me and the Groom were sort of near the double doors to the banquet hall as most people showed up. We got to go around and hug and chat with everything. And then, people didn't take their seats. People milled around and chatted and wallked between the banquet hall and foyer for close to 40 minutes. It was really casual and relaxed and awesome. I think the parents were nervous for us, because I wasn't.
When it was 1:25ish, we got two "usher-like" guys to get people seated, and got the processional people outside. The two officiants walked down the aisle and the procession music started. Each of my sisters escorted one of my nieces (who were in super cute dresses). My groom's brother walked with his Bubbie. My groom walked with his parents. My brother walked with my Mom. And then it was me and Dad.
When it was just me, Mom, Dad, and my brother left outside. I had that loud inhale that caused then all to look at me like was I going to start balling. But then I remembered it was just a party, so let's go. Dad was great. He was pro at muttering, "Stop here for the camera. Now look that way for the camera." When we got the front, I passed the bouquet off to my siblings and nieces who would be seated (with the instructions that my nieces could tear the bouquet apart if it kept them happy). Dad shook my Groom's hand, and then we headed under the chuppah/gazebo.
The ceremony went great. Both officiants were wonderful. I will post the entire ceremony word-for-word in detail in a later blog post. Me and my Groom co-wrote it, and it was unique and we received lots of compliments about it afterward. I was trying to be a goofball through it all. My younger niece (20 months old0 had a hard time staying interested, so she was at the front being cute. I was trying to show that I was fine with this, and one officiant picked up on that and even played with her during the ceremony. So it was cool. When they mentioned the ribbons, and the one that represented Nova Scotia, I did a Vana Whtie gesture and got some laughs. The vows were freakishly hard to remember. And, as my Groom later said, it was obviously that I never stand still like that for that long. I was webbling and wobbling, I was turning left and smiling for cameras. I was turning right and smiling at my parents. I was reaching out and grabbing my fiance's hands and squeezing them. I was nodding my head at the end of the sentences in the ceremony that I thought were important (I'm such a nodder).
It was written into the ceremony that we would each say "I will" individually and then "We do"  together. The I wills were good, but when my Groom said "We Will" and I said, "We do" it was funny. And then I couldn't get his ring over his knuckle which was also funny. I was having a blast with it.
One of the officiants sang Hebrew and it was great. She really drew it out in parts and made it kinda sound like opera which was new to me.
Our brothers signed our ketubah and registry. When I got to kiss the Groom I bounced up and down and got more laughs. He smashed the glass and everything worked our really well. The parents rose and his started singing a  traditional Hebrew song, we held hands and walked out of the banquet hall - supposedly going to our Yichud - which is our secret alone time. It didn't last long, there wasn't really anywhere we could go. I tried the corner by the emergency exit, but once my brother and his girlfriend went to the bar to "open" it, we could see them so we came out and mingled.
We had about 25 minutes of "standing reception" mingling. Lots of hugs and congratulations.Complimentary wine curtsey of my brother. We ushered everyone into the foyer and the hotel staff rearranged the furniture by spreading the reception tables over the entire room (in other words, they got rid of the ceremony area). Now there were a few round tables, in a circle with a dance floor in the middle.
I should my Dad the microphone and his table. When we were ready, my Dad called everyone to sit down and then announced the couple in the room. We took our seats at the head table. People started right away with the clinking of glasses. Then we made a quick round to socialize with each table and then our salad course was served.
My Dad got up and said a cute little speech about when I was stuck in Toronto for Christmas and my fiance was in Halifax in a snow storm by himself and he met my parents for the first time. It was really great. Also during the salad course, my father-in-law gave his speech, which was a biographical epitaph of my Groom, and me. I cringed when he started talking about my political preferences in a room full of Conservative supporters. When his speech and the salad was over, we did another loop of socializing and then it was the main course. We gave the guests a choice of salmon or 3 cheese veggie pasta. I hear that both dishes were good, which is great. Mine was awesome.
When I finished my salmon, I asked my Groom to ask if there were any more speeches from his side. When we confirmed there wasn't, I delivered my poem, which I posted in the blog post right before this one. More socializing, and then cheesecake and tea. When that was over, a few guests had to leave early, and then I got my Dad to announced the first dance.
My poor groom felt awkward. It was a long 4 minutes, and I wasn't satisfied with the clarity of the speakers. For the father-daughter dance, we got my nieces involved after the first minute. Then we put on Have Nagila and attempted the circle dancing. I was super nervous that no one would be interested. At first, I really just had my Groom and niece, and then my brother-in-law. I knew his religious relatives only dance in same-gender circles. So I broke away and grabbed my youngest aunt who works for a multicultural center, then I grabbed my Groom's two frum aunts and explained it was a women's circle. I also grabbed my mother-in-law's Jewish friends. I was trying to see how the men's circle was going. I saw the groom's father going fast, and the groom's uncles. I was shocked to see my Dad circle dancing that was quite something. My sisters, nieces, and Mom came into the women's circle. Then my mom's sister, my Dad's sister, my great aunt, my grandmother, my other grandmother's cousin, and my greatgrandmother's sister-in-law also joined. I was pretty thrilled with participation.
I had planned for it to alternate between Yiddish music and Great Big Sea to get a blend of both cultures. When the first Great Big Sea song started, the Groom's side was a bit confused, but when I kept dancing, other did too. When it went back to Klezmer, there was renewed participation. On the 3rd jump to Great Big Sea, it was "I's The By" with a decidedly different tempo. People stopped circling dancing. I clapped my hands and shouted the lyrics (a few others did too) and then I started doing the jig. I ran at someone and latched elbows with them and we spun in a circle and then alternated. I did that to most of the women with in reach and a few imitation circle happened. My Scottish grandmother even did a little jig of sorts. Then I ran to the men's side, grabbed my groom and we went FAST spinning each other.
After that, the adult dancing died out, by the nieces kept it up for a while and had fun.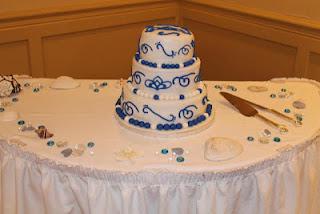 We were ready for cake, so it cut it, not knowing it'd take 30 minutes to get the pieces back. We had like 10 cameras flashing as we cut the cake, and then most people said their good byes and headed out. When we got the cake back, there were only a few people around. Almost everyone who was there had a piece of all 3 layers - chocolate with chocolate hazelnut filling, cookies and cream with oreo filling, and marble with chocolate strawberry filling.
Then it was clean up time. My Dad changed out of his suit and dismantled the gazebo. my sisters, my brother's girlfriend, and my nieces cleaned up the tables. I wanted to help, but as the bride I was serving cake with the groom and saying good  bye to guests.
Then we checked into the honyemoon room and brought up our gifts. The hotel provides complimentary champagne and strawberries to the wedding couple. In addition to that, there was another bottle and a second set of champagne set up in my room - which turned out to be compliments of my cousin who was married the day before.
We read our cards, changed into casual clothes, and my new husband and I went out with my immediate family for Greek appetizers later on that night. It was first time that my parents and the 4 kids in my family had been together since Christmas 2010. My Dad's terrified that it might be the last time we're all together, so I'm glad we have the memory together.
And that was my wedding day. It was absolutely pretty awesome.
The next two upcoming blog posts will be a detailed copy of our custom Interfaith Wedding Ceremony and then a full recap of our Honeymoon (Halifax, Toronto and Cuba in one week!)
Stay tuned. :)