It's 10 minutes before 2AM and I'm still up. Yay!
I've been making notes for my Tax exam. Our finals is next week and I still have a lot to cover. I need to triple my effort to pass the subject. I failed on the previous exams and I doubt that I would make it, although I'm still keeping my hopes up. I want to pass this subject, and the others too, so badly.
Jerbs texted me that she "will follow me". I had to ask her what she meant. She answered that she would also transfer school. I told her to hold on while she still can. She's a bit depressed that her
efforts aren't compensated.
I know that feeling, Jerbs. But you're still there.
Kayod. 
You made it this far. You can do it. 
*sigh
I envy their determination and perseverance. I think mine have died years ago. I didn't even notice when exactly. I wish I was more strong-minded and resolute. I wish I was more focused. 
This October, I wish for good news. I wish I could pass all my subjects and make my parents happy. I wish I could go home with a little accomplishment to brag about. 
On another note, the nation, or the cyber nation has
turned black
after netizens, changed their Facebook and Twitter DPs into black as a sign of protest against the infamous
Cybercrime Law
 (gov.ph has just been hacked so I couldn't get the full text of the law). I am personally against some parts of it, i.e., online libel, illegal downloads (poor favor haha). I believe that the law is vague, vast and patently oppressive. Politics is such a pain in the ass.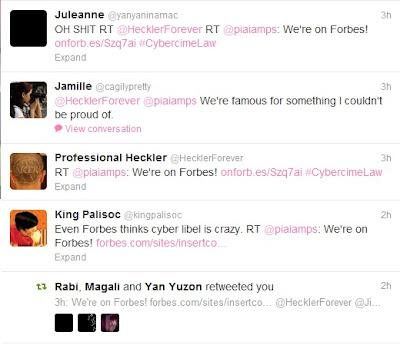 Twitter famous for a night haha
Click here to see what made me famous.
Click here to get to (and follow) my
famous
account.
I wish for a better Philippines. I wish for a better me. Keeping my fingers crossed.
PS. Our Baby X is here! Can't wait to go home! :)
x