THE BERMUDA TRIANGLE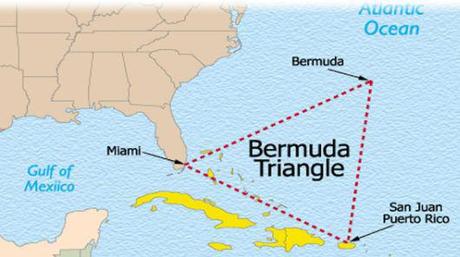 The Bermuda triangle is located on the western portion of the North Atlantic Ocean. It is a triangle connecting Puerto Rico, Miami and Bermuda. Many ships, aircrafts and vessels are said to have strangely disappeared in this location. Though many such mysterious incidents have occurred within this triangle, Officials claim that such incidents were often bizarrely made up erroneous reports and are ambiguous. It is said that such incidents occur even in other parts of the ocean.
In 1950, Flight 19, with 5 TBM Avenger bombers on a drill, mysteriously disappeared on the Atlantic Ocean, without any trace. It had 14 fresh American pilots. The flight leader was heard later on the radio. He said, "May Day! May Day! We are entering white water, nothing seems right. We don't know where we are, the water is green, no white". Later it was said that the Flight 19 flew to Mars. However, the mystery remains unsolved. Some say that it is the cause of the still present technology from the lost city of Atlantis and some say that these are supernatural activity by paranormal beings. The Bermuda Triangle is wrapped with many such bizarre cases of disappearances. Hence it is also called the 'Devil's Triangle'.
Is it a Mystery or can it be solved? Is it a Fact or just another Myth? Answers are yet to be uncovered.
P.S.:
 THIS POST WILL BE UPDATED AND NEW MORE INTERESTING MYSTERIES WILL BE ADDED.  SUBSCRIBE TO THIS POST TO RECEIVE E- MAIL NOTIFICATIONS WHEN IT IS UPDATED.