So the other day I was at a Start-rite event down at BAFTA in London (how fancy am I, and yes they had the gold statue faces littered about the room like awesome 
giant 
cake toppings). 
Now, if eating tiny 

h'

ordeuves and looking at shoes wasn't awesome enough, I also had the pleasure of meeting and interviewing the gorgeous Myleene Klass, and you know what she was genuinely lovely. None of the fake smiles and stilted polite chat. She was warm, funny and gave a pretty good hug. Plus she was clad in heels that, on anyone else apart from maybe a model or a stilt walker, would have been totally impracticable, but the fact that she pulled it off like it was the most ordinary thing in the world to her impressed me, maybe a little more than it should have.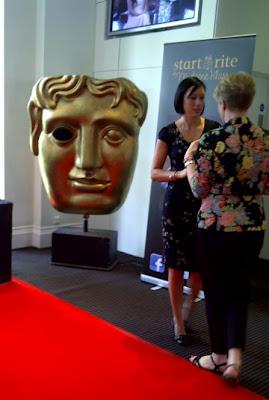 "Whisper, that sneaky mask is trying to listen in."
If for some reason you are visiting this planet for your summer holidays (and weirdly you are reading my blog...) and you are asking yourself "Who is Myleene Klass?" let me give you a brief overview. She is a m
usician, TV & radio presenter, designer, model and singer. She designs a range of baby clothes sold by Mothercare and she is Start-rite's newest 
ambassador (I have included a link below if you would like to read more about Start-rite and their awesome range of children's shoes)
. She is one of the UK's most in demand and successful entertainers.
Anyway, enough of the Myleene worship (not that she doesn't deserve oodles of it)...below is my interview - I say interview, really it turned more into a conversation peppered with questions...which if you know me, you know it is pretty much par for the course. This is part 1 of 2. I will be posting part 2 later this year as it contains top secret information...and my lips and laptop are for now, officially sealed.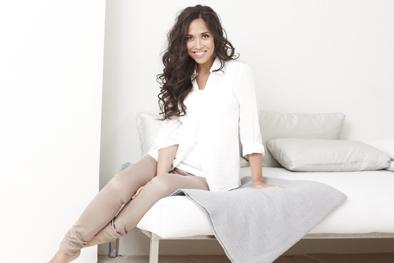 Myleene Klass
Me: You recently visited Bangladesh for the Save The Children's Build It For Babies campaign. What about the experience really stuck with you and why do you feel this campaign is so important?
Myleene: We take maternity care for granted in the UK. We choose how we have babies and which drugs we use and in Bangladesh it is a different situation. What struck me was that you are meeting women and it is just a genetic lottery as you could be in their situation or vice-versa. You just think 'please will someone have the humility or the humanity just to help' because it is very easy to say 'it's not my problem, not my problem' but I wager you have had a cup of tea today or maybe seen a doctor from Bangladesh or maybe you've worn some fabric from there and then suddenly it is your problem because if you can take from the country, then you can put back. We are not asking for you to put loads back in, we are only asking for a pound, do you know what I'm saying? Me: (Nods)
Myleene: When you break it down like that, you actually think I really can make a difference. Also, on a more closer to home experience,  I am now way more lenient with how Ava and Hero interact together, not always with the best results, but you know, I saw children raising other babies, three year old girls helping their mothers with babies and then looking after them whilst their mum's went to work. Three year olds, I mean, I have seen it with my own eyes, three year olds looking after babies! So now when Ava goes 'can I pick up Hero', before I was like 'no, no, no', and now I am like 'go for it'. Hero goes crazy, she hates being squeezed by her sister in those big sort of of cuddles that only a big sister can give...but I'm like, 'let them do it'.Me: I totally get it, I let my twins squeeze the life out of each other with their baby hugs – they love it.Myleene: (Laughing) exactly, just let them do it *I have put more information about the Build it with Babies campaign at the bottom of this post.Me: How do you find balancing your work life balance with your family as I imagine you are fairly busyMyleene: Yeah but again probably no more so than you, or probably anyone else, it is just more people know about it. It is hard, I am knackered all the time, Hero was up at 1, 2 and 5 last night because she's got a cold and I'm thinking I've got to make some kind of speech that will hopefully make some kind of sense Me: It didMyleene: I don't know if it did, even now I don't know if  I am making any kind of sense right this secondMe: You areMyleene: But yeah, you feel like you are in some kind of hazy gloop, I constantly have that tiredness but you know that it doesn't last forever and suddenly yeah Ava is not in little mini walkers, she's in her bigger shoes and you're like where does time go?Me: Do you have any tips  for any mummy's out there trying to manage their work life balance?Myleene: Hang in there and when everyone else makes it look easy, don't be fooled, we are all doing the best we can. So just do the best you can, that's it and hang in there, because that madness doesn't last forever either. Sometimes it can be extremely overwhelming  but the fun bits are easy, it's those bits where you have been up three times during the night and nobody has been able to go to sleep, including yourself and it can be exhausting. So, whenever anyone else makes it look easy, rest assured, you are all in the same boat.Me: Okay one last question...If you could have a superhero power, what would you have and why?Myleene: (Laughing) Superhero power...(laughing) I like that, I think this is the first time I have been asked this. Me: My blog is part geek, so I thought I'd throw in this random oneMyleene: I'd like to think that I could fly because I need to save myself hours everywhere, sitting in traffic trying to get home, sitting in traffic trying to get back to work and I'd like that. But yeah I'd also say maybe more arms so I could juggle a few more platefuls, family, I don't know, everything. I think I need more time and I think that flying would give me more time. I feel like I'd use that time but yeah we all need 5 extra hours in the day, don't we?Me: I'd quite like to be able to teleport, I think that would be a good one.Myleene:Yep that would be handy, being a mind reader would be pretty good as wellMe: Yeah I think we just need a whole host of powers.Myleene: Yeah like a superhero family.Me: Yep like that Disney film.Myleene: The Incredibles.Me: Yeah, that would be cool.Myleene: Exactly.
Me: 
Well, thank you very much, it was lovely talking to you.
Myleene:
 You're welcome, it was great to meet you and I love your babies' names. 
Me: ThanksSo there you go...that was me meeting Myleene Klass. I have to say, I respect her choice in super power. Flight is always a good one and she had the reasons to back it up. I got the impression that she is one busy lady who despite the killer heels and very shiny hair is just like the rest of us. I am also secretly pleased (or not so secretly as I am telling you guys) that she liked River and Indigo's names. I love it when people think that. For more information on Myleene check out her links below and for more information on the Build it for Babies, check out the video and blurb (also below). 
Myleene Klass official site
Start-rite

Save the children: Build if for babies
Life is perilous for children in Bangladesh: 1 in 19 children do not live to see their fifth birthday because access to basic services such as healthcare are very limited. That's why we are asking supporters to help us raise £1 million to build and equip seven life saving health clinics in Bangladesh. Find out more about the campaign here 
On a side note...Start-rite are running a competiton - check out the info below.
Something to get your kids involved with Start-rite... they are also bringing out a new canvas shoe range for Spring/Summer 2012 and have launched a competition where your children can design their own canvas shoe and win a five star family holiday with Hoseasons!! The entries will be judged by Myleene and the team at Start-rite – if your child wins not only will you be up for a holiday but the winning design will be made into an actual product to go on sale next year!  More info and video content here:
http://www.youtube.com/user/Startriteshoes?ob=0&feature=results_main