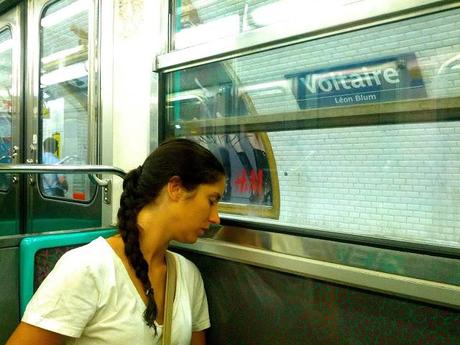 My six hours in London quickly came to an end, despite my sleep deprivation, that at first had the day dragging on. My first few hours into my excursion, I was starting to doubt this decision as my exhaustion was coming in large waves, pulsing through my body. Two double lattes later and a soggy egg sandwich, I forced myself out to conquer a gorgeous day in an equally gorgeous city.
Preparing myself for the day trip, I had made prior arrangements to drop my suitcases off at our friend Julien's office off the Green Park tube stop. Julien was Aurelien's best man or as the French call them, witnesses (which is the same thing despite its sterile translation in English). He echoed the warmth he shared with us on our wedding, sending me off with maps, thumbs up, and organizing a mid-day lunch date together. Thanks to him, he was able to free up the 30 pounds that I had been carting around, allowing me to wander, explore and drink Pimms in peace.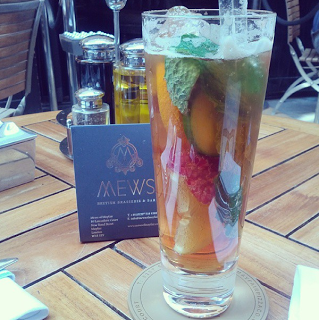 Afternoon Pimms.
Look at this juiciness!
I admit, I wanted more than one...
Two coffees only provided a false-sense of alertness, and had to limit myself to low-energy activities. For example, Top Shop was too exciting for me after only two hours of sleep; the pounding music, loud colors (even if it was adorable pastel mohair sweaters!), and smashing into English teenagers proved to be way too strenuous. I thought I was going to faint. So shopping was out. Way out. Who knows what I would have bought under these conditions. Booty shorts for sure.
Although this top here would have been cute, if it wasn't cropped.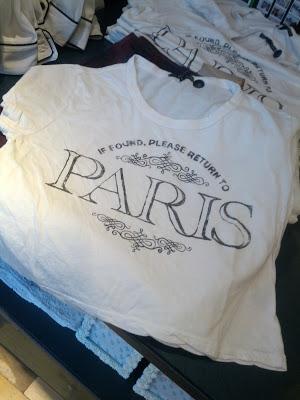 After lunch with Julien at a pub (at my insistence), a walk through Camden Town, and a trip to the Amy Winehouse exhibit at the Jewish Museum, my day in London was sadly coming to an end. For what felt like an endless day ahead of me at 9 am, really slipped away without even realizing it.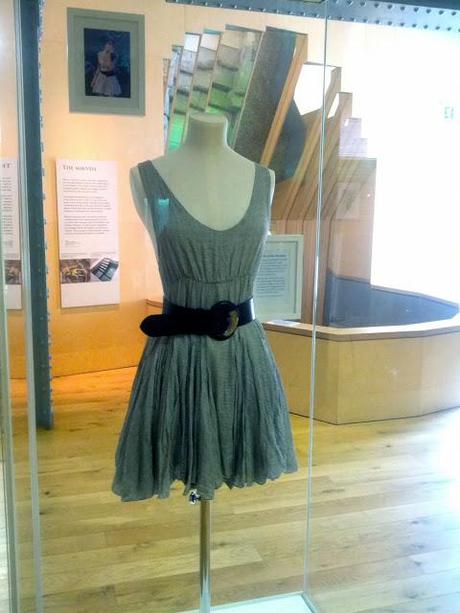 Amy Winehouse exhibit
"Tears Dry On Their Own" Dress
To answer why I haven't been flitting back and forth between London and Paris with such ease these past four years -- aside from the cost, as my modest salary and pricey London isn't exactly a match made in paradise -- the real reason was the strict immigration officers I had heard rumors about. On this trip, I had the pleasure of experiencing what I had only heard about in expat tales.
In Heathrow that morning, I was asked to present my French carte de séjour, that foolishly on my part, I had left in an envelope in my checked bag. Because I had not been in the UK for over five years, he admitted me while warning me to have it prepared to present to the officers at the St. Pancras railway station later that day. Deal! Can you imagine if he sent me back to America? Oy vey.
Cutting off my Winehouse tour short, I booked it back to Julien's office to go through my suitcase in search of my French resident card.
Because his small office was having a full-staff meeting I quietly slipped out, and on the sidewalk in this super chic neighborhood of Westminster planned to dig through my suitcase in search of the missing document. There on Davies Street, bent over, and much to my absolute horror, I discovered that Aur
é

lien and I had switched suitcases at JFK. He, had my carte de séjour.
For the first time in years I have a concrete piece of documentation allowing to me reside in France; no longer an invisible tourist visa; not a flimsy student visa; but a sparkling new document that allows me to work full time and to create a life in France...and I didn't have it. It was en route to Paris.
A classic me move.
Since I had nothing to prove that I lived in Paris, with reluctance I told the French officer that I was coming to France for vacation. I so desperately wanted to explain my situation but knew that would over-complicate things, risking denial into the country. As he flipped through pages upon pages of Charles de Gaulle stamps, two expired student visas, and two expired temporary carte de sejours, understandably, as my passport looks pretty shady, he had some questions. He wanted to know where I currently reside, how long I was staying in France, why I was coming to France in the first place, and what was in my suitcase. Each answer didn't seem to satisfy him as his thumb fanned through my passport and his left eyebrow remained propped up, surely for effect.
Sneaking in a stronger American accent to sound extra "vacation-y", I answered more of his questions before he landed on my most recent student visa. He looked at it and with his fingers counted how many months it had been since it was expired to see if I was even eligible to re-enter. I was sweating at this point.
Thankfully I had made the cut-off date, he grabbed his stamp and slammed it down on my passport. I sat in the waiting lounge shaking. How could I have been so unprepared? I really don't know what the absolute worst case scenario would have been, deportation back to the States for a few months? Or would I have been allowed to stay in London, have Aurel send my resident card overnight and try again the next day? All of the options would have cost money and time, and I was truly thankful that he let me in. I will never leave the house without my resident card!
After a lovely Euro Star trip (the small upgrade to the middle class really is so worth it!), I was in Paris where I could finally sleep! I catapulted myself into bed for a 16 hour sleep, and have been suffering major jetlag. Although I am nursing a schedule of waking up at 3 pm, going to bed at 4 am, and feeling overall disoriented and foggy, I have to say, it's good to be back in Paris. Who else is ready for la rentrée?
What was going on this time last year?
We were filming our House Hunter's International episode!