Today when I was trying make something in the name of Burger I asked my mom to turn on the music in my system. I asked her to choose some song and she selected a song which was one of my favorite at that time. Once I was addicted to the song, I used to sing that song all day and I was nearly made the singer my idol(please note the past tense). The song she played is "Tera Suroor" from the album "Aap Kaa Surroor"(sorry if I am wrong in spelling with a's,o's and r's).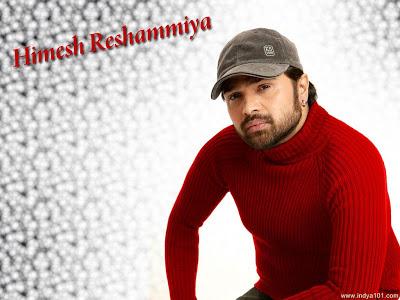 It was during one of my tournament trip to Mumbai in 2005. I heard the songs "Odhni chunariya", "Tere naam" from the movie "Tere Naam". I asked about the song to the co passenger and he told the movie name and then I discovered it was the remake of "Sethu". Till that moment I was not much of Hindi songs fan and that song somehow attracted me and while talking about the music director and singer. That was the time I came across the name Himesh Reshammiya. Then the co passenger made me to listen another song of him which he crooooooned himself from the movie "Aashiq Banaya Aapne", which I liked very much and started discovering him more. After returning from Mumbai I started listening to more Bollywood songs. The story of the movie nor the still nor even the video version of the song flatter me(if so then it was for the different reason and I preferred remix version starring himself in the video).
I am not sure of the month but sure it was the year of 2006 I heard about the individual album of the singer "Aap Kaa Surroooooooooor". As inspired from his previous crooooning I bought the CD of the album from the shop. That period was golden period of Madurai, where all language movies and CDs are available for a mere cost of 25 rupees at Meenakshi bazaar owned by Annan of Madurai. Actually I liked the album CD and bought video version in DVD too and later I knew that it was the debut album for Deepika Padukone. From then on I started to crooooooon Tera Suroooooooor always and everybody from my friends to parents knew I have become a fan of Himesh Bhai. The Tera Suroor addiction lasted till my 12th. Even now my school friends remember me by Himesh fan identity. I even bought the same kind of t-shirt he wore and always roam with the cap.
After a while I started to lose interest in his music as I find it repeating and not amusing anymore. There was a time when producers start making movies just because of his music and promoted with his video songs not even featuring the leads of the movies which became Box Office hit. But more and more I heard the same tune and last time I heard some good songs was from Dasavatharam. After the movie came a very interesting announcement that made me to totally hate him, the announcement is that Dasavatharam is his last album for other actor and from then on he is going to compose only for himself.
And thus began the epic fall named Karzzzzzzzzz (it was a curse to him) then further films struggled even releasing and then fight with T-series. So even though I didn't like his music then I still kept an eye and I watched him going down to the mud. I assumed thus the man dug his own grave and he won't comeback. But I was proved wrong by this man, he came back as composer in Bodyguard and gave "Teri Meri" with Rahat fateh ali khan, and then some Khiladi 786 with slight boost to acting career as a comedian and a script writer. The movie was a hit and Himesh Bhai is back in the business. A man whom I thought dead is resurrected from the grave. Although I loathe the movie Khiladi 786 for obvious reasons I liked the way the man who never gave up. He knew how to make a comeback and he did it. He is heavily criticized for his nasal singing which is the factor I liked of his song and it gave distinct tone to the song. He was one of the few who came from dead in the industry where once dead cannot be back to business without a big back up or a history. Once Aamir Khan told that Himesh is the king of marketing and he exactly knows how to sell his product. That is true and he proved that he can sell anything and establish himself.
I am unable to hear the music that charmed me from the musician but I am able to see a fighter who is back from ashes. I am hoping someday himesh gives some good music that he used to give once. These all ran in my mind on hearing the song Tera Suroooooooor.