In today's world, it is impossible to follow the age-old tradition of continuing a job and saving a decent amount in the bank for a long time and thinking of a peaceful retirement at your 40s or 50s. The world is moving in a lightspeed and we are seeing the disparity in the pay as the pyramid builds up. We are seeing our BOSSes earning a big chunk while we are literally getting peanuts. Entrepreneurship is running in the veins of the millennials but how to do it? How exactly to keep both on the weighing scale? What are the pros and cons of a job and of an entrepreneurship?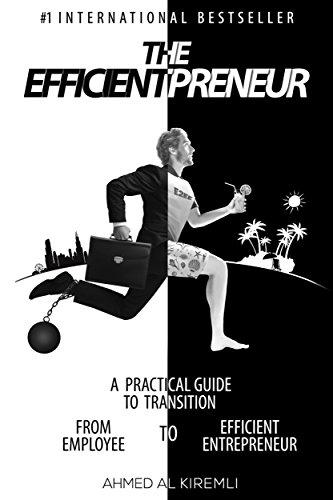 To all these questions Ahmed Kiremali gives you some great answers in his book The Efficientpreneur - A Practical guide to transition from Employee to Efficient Entrepreneur. This is not just another self-help book where the author chants everything is within but rather he gives you some facts to ponder on. Isn't it cool to know that somebody is making sense in a self-help book that actually helps you in transitioning your life from okayish to a better life?
Thanks to iRead book tours for giving me the opportunity to read this book. What I particularly liked about this book is the author addresses every possible hurdle you might face and what are the things to be concerned and given attention at each phase. If you are working in a company but planning to start your own firm or want to experiment with entrepreneurship this is a must-read book. Or if you hate your day job and thinking what am I doing with my life, then it is an absolute essential to read this book, who knows you might even become a next big thing.
I personally enjoyed this book as it gave me a lot of insights which I personally needed and gave me clarity in various aspects which I have never thought before.
You can buy the book on Amazon and Amazon India. The Kindle edition is just 64 INR and it is really a good investment(pun intended).