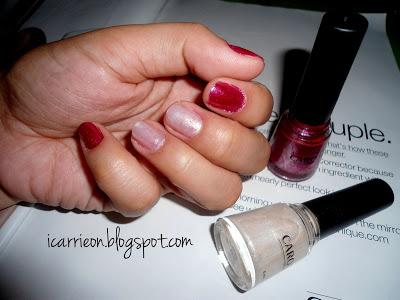 This post feels special being my first NOTD in like forever. *So, forgive me for I am not yet an expert in perfect nail polish application but I will take things one step at a time and just keep practicing until I'm good, better and best. :)*
Back to my featured shade(s) for today, it's from a well-loved nail polish brand we've known and heard of all our lives, probably: Caronia. And rightfully so because their latest colors from the Enchanted Collection will make any mani-pedi loving lady giddy! Enchanted is an apt name and the collection, composed for four shades are just glittery; reminiscent of fairies, fairy dusts and starry starry nights! Here they are!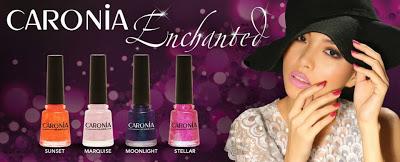 Photo credits from Caronia Philippines' Facebook Fanpage
I so wanted to posses all four of them but luck was not on my side and I only found 2 shades: Stellar (the hot glittery pink one) and Marquise (the creamy glittery one). I initially wanted Moonlight, but nada nada there was none in my little town. If anything, I'm still very fortunate to have found at least 2 of them considering that I'm far far away from the city.
So here's how I fared with these amazing colors.  I experimented a little and used both colors on my hands.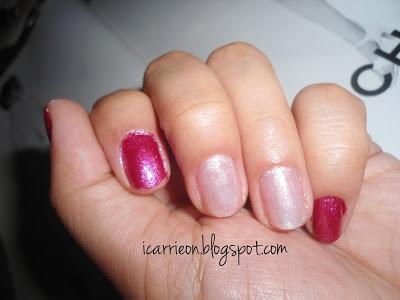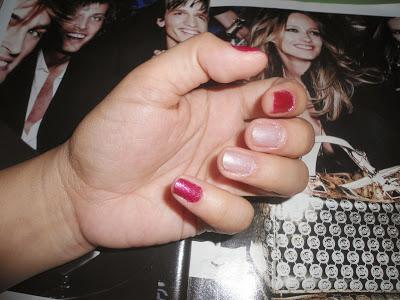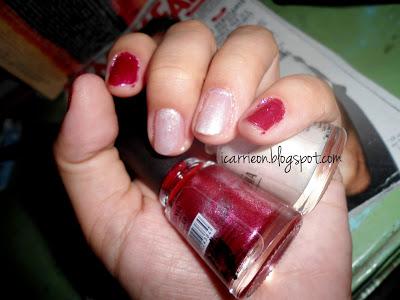 If I have to pick a favorite, it would depend on what occasion you would be wearing it. Stellar would be perfect for your night-outs and Marquise would be perfect for work where you're required to wear subdued hues, or maybe for walking down the aisle. :)  Basta wherever you wear it, make it memorable and just have fun and oooomph up the girl power level, ayt?!The shades do come our darker on camera since Stellat already looks maroon or reddish on the photos. In person though, it's just a beautiful shade of hot pink. And I wish the camera could do justice to the glittery stuff in it. :(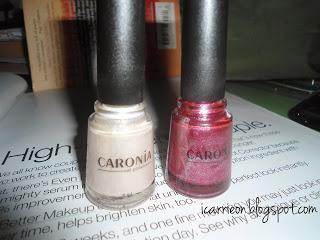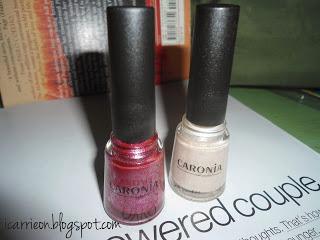 Product DetailsName: Caronia Nail Polish Mfd by Vibelle Mfg CorpShades: Stellar and MarquiseSize: 8mlHow Much: Php 27.00 for each bottleAvailable in local department stores and groceries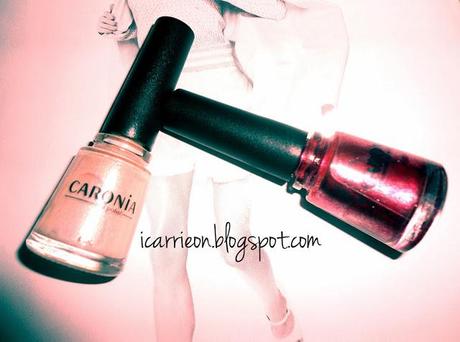 My cute nails are staying for a while for I am just enjoying the glittery effects. 'Till my next NOTD post my dearies. Bye!
XO,
Carissa