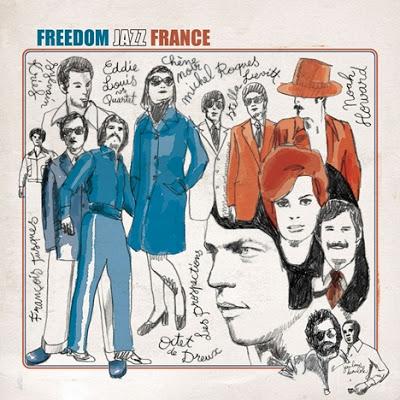 So something really cool has been happening these past few weeks. I've been waiting to collect more information as it seems to be coming in by the week before I shared it with you.
As I have mentioned in passing in previous posts, my late grandmother Stella Levitt (my dad's mom who remarried) was a jazz singer here in Paris for several decades. I didn't know her growing up because she was here living with her second husband Al Levitt the jazz drummer. Apparently she was present for my birth, and as my mom recounts, her and my dad picked her up at the Air France terminal at JFK where she was carrying only two baskets brimming with her belongings, a cigarette, and sporting a floppy hat and platforms. So Jane Birkin. After that (if you can count the presence of my birth an actual meeting), the last time I saw her was when she returned to the States in 2004 to take care of my sick father who passed in 2005.
I say in jest that I came to Paris to find the perfect French man because dating in New York was a nightmare, and while I'm sure there's partial truth to that (that and I wanted to start eating bread again), a part of me came here to learn about the side of my family - starting with my grandmother.
When I first arrived in 2009, I was comforted by the fact that I had found her record in several small record stores in town, and that if I ever felt alone, I could always go to the record store and visit my grandmother. Her music has served as a private portal into a life I know so little about, yet that encompasses so much of who I am.
Lately though, the interest in her has grown beyond my personal connection to it when jazz label Heavenly Sweetness included her track 'Notes So High' on the Parisian Jazz Compilation Freedom Jazz France. 
With all of this buzz, I had drafted an e-mail to get her music played on the Parisian jazz station TSF Jazz, thinking it would be a perfect home for her music, and to pay homage to her contribution to the Parisian underground jazz scene. That's when my expectations exceeded themselves. Without any of my handiwork as the e-mail had gone unsent, I heard my own grandmother being played on another station I absolutely adore here, Nova Radio. 
Hearing my grandmother on the cooler-than-cool Nova Radio will be one of the highlights of the year (and it's only March!) My quest to find out more information on my grandmother, my jazz guitarist uncle Sean who had a small following in Spain, and my two flamenco dancing aunts has just begin. Let's see what I can dig up. In the meantime, I'll enjoy the mini-resurgence that my grandmother deserves.
A big thank you goes out to Gwannel Sandiego and her master Google-searching skills for helping me get some information. Je t'adore!