Yeah right! So I have a plan and instead of doing something about it, like getting rich, I blog….DUH! Davy Jones' Locker awaits all ye Landlubbers. R
ead this poem instead.
once upon a time
 in a faraway land
lived a pirate,
his name, no one knows that,
but let's call him Pegleg McStinky.
He wore one eye patch
his left hand was a hook
and right leg was all wood
his teeth were dark yellow and black
and he would often sing songs
write poems and look up in the sky
and ask God why o why
why was he all alone in the island,
where was the ship,
where were his pirate buddies,
why were the monkeys in the island
always attacking him,
why did pigs there bite his bum
when he tried to sleep,
what is a treasure
and where was it,
and most importantly
what to do when the stomach growls
day and night ?
He died looking for answers
and
treasure
in the island.
How sad and scary the story of
Pegleg McStinky
whose belly growled
excessively.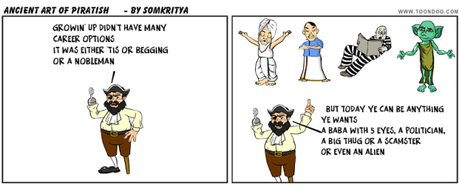 Do not steal or copy this ye Son of a Biscuit Eaters