Question (part one): 
Why when babies are overtired do they not just go to sleep? Why do they scream it out and struggle on? Why not do the sensible thing and lie down and take a nap? 
If you couldn't tell from the above, the twins woke up a few too many hours early, have not taken a nap and are behaving like they are possessed. Indigo literally threw her bottle over the side of the sofa earlier whilst River tried to make a roll for it. It was total chaos...
They have their injections this afternoon today as well which I am dreading, as the last time they had their boosters they got very upset and actually I felt very upset too. It is horrible having to hold them down whilst two nurses with two very scary needles inject them whilst they scream their little heads off. Oh gosh...I really think today is going to be one of those days.
Question (part two): 
Would it be wrong to cover myself in camouflage and face-paint and hope that by stealthily fading into the background of the room the twins will realize they have no mommy to terrorise and will take a nap (whilst I am still able to keep an eye on them like a mummy-ninja!)?
I am going to make myself a nice cup of tea and swallow a couple of 'baby-scream soothers' (most commonly known as paracetamol).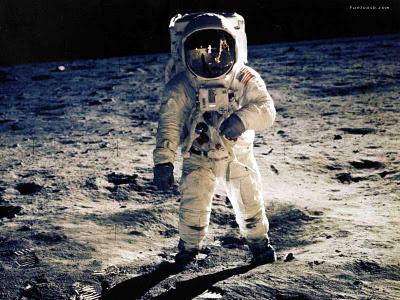 Even in Space Indigo and River's overtired screams can still be heard!