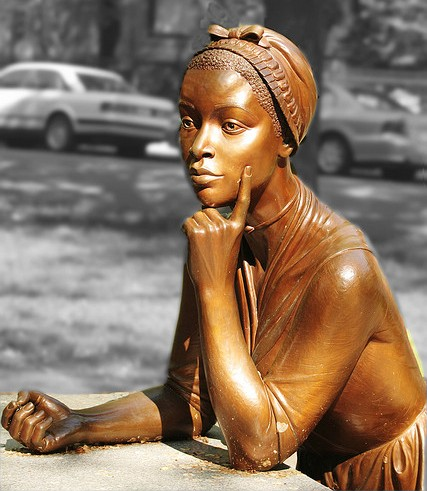 The Phillis Wheatley Monument is in Boston, part of the Boston Women's Memorial.

" WHILE an intrinsic ardor prompts to write,
   The Muses promise to assist my pen."
Phillis Wheatley
I love the idea of the muses promising to assist one's pen. Perhaps that is every writer's unspoken or unwritten prayer. We sit at wherever it is we sit and we pray, "Please, let my words make sense" or at least have some form of quality to preserve us and them for a time.
Phillis Wheatley was an early American poet whose distinction spreads beyond the quality of words for she was not only a woman, she was born in Africa, making her the first African American published poet in the United States of America. Most of her fame was in Europe, however, and among the biggest tragedies that befell her and fell among many freed slaves of the revolutionary era, she died penniless and alone while her husband was in debtors prison.
She did continue to write during her trying times and even got subscribers to fund a poetry collection close to her death. Her deep love of words and her continuous writing even when times got hard inspires me more than I am able to express.
Prompts for Contemplation and Writing:
Is your love of words enough to inspire you to write?
If your love of words (and the process) doesn't inspire you, how might you call upon your version of the Muses to assist and inspire your writing?
Sentence Starters:
I would describe my muses as…
During hardships I write….
My best writing comes when…
For reflection at the end of the day:
On the average day, I am most aware of my love for….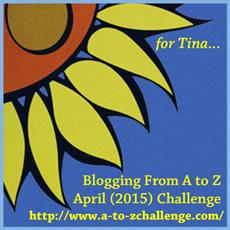 = = = =
This blog post is a part of April's Blogging from A to Z Challenge. Visit here daily in April to be inspired by literary grannies across time.
==========
 Julie Jordan Scott inspires people to experience artistic rebirth via her programs, playshops, books, performances and simply being herself out in the world.  She is a writer, creative life coach, speaker, performance poet, Mommy-extraordinaire and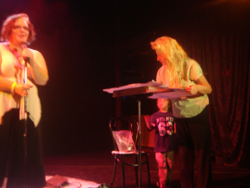 Julie Jordan Scott is at the Microphone writing a collaborative poem during a poetry performance
mixed-media artist  whose Writing Camps and Writing Playgrounds permanently transform people's creative lives. Watch for the announcement of new programs coming in Spring, 2015 and beyond. 
 To contact Julie to schedule a Writing or Creative Life Coaching Session, call or text her at 661.444.2735.
   Check out the links below to follow her on a bunch of different social media channels, especially if you find the idea of a Word-Love Party bus particularly enticing.
   Please stay in touch: Follow me on Twitter: @JulieJordanScot    
   Be sure to "Like" WritingCampwithJJS on Facebook. (Thank you!)
   Follow on Instagram
   And naturally, on Pinterest, too!
   © 2015