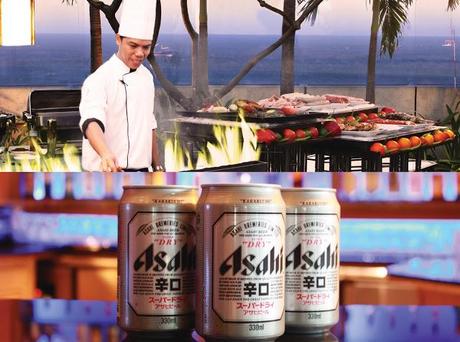 Manila, Philippines, 19 June, 2013
–  This month, Pan Pacific Manila treats all beer enthusiasts to a beer and barbecue blow out with the Pacific Lounge's Barbecue and Beer at the Gazebo. For every order of any of our Sunset Barbecue dishes, guests are treated to a complimentary round of Asahi Super Dry beer.
Enjoy a luscious barbecue and beer pairing in an exotic setting amidst the lush tropical rooftop garden, and enjoy the Sunset Barbecue's  selection of delectable dishes such as  Mixed Grill (lamb chop, cajun-style pork chop, specialty sausage, beef medallion), Seafood (salmon, tuna, prawns), Sausage and Chicken (chicken, specialty sausage, country-style pork belly), and Surf & Turf (U.S. beef tenderloin , tiger prawns).  All dishes are inclusive of soup, salad, dessert, and choice of baked potato or corn on the cob, vegetable or greens du jour and homemade chips.
The Barbecue and Beer at the Gazebo is available every Friday from 6:00pm to 9:00pm at the Pan Pacific Manila's Garden & Gazebo.
For enquiries and reservations, email [email protected] or call 318-0788 and ask for the Butler, of course! For more information about our hotel, visit panpacific.com/manila. Visit our facebook page at www.facebook.com/panpacificmanila.
About Pan Pacific Manila
The first and finest Butler hotel in the Philippines – ranked among the top Asia city hotels at the 2008 and 2009 Readers Choice Awards, named one of the best places to stay in the world at the Annual Gold List by the Conde Nast Traveler, and also awarded as the Philippines' Leading Business Hotel at the 2012, 2011 and 2008 World Travel Awards. 
Conveniently located at the heart of the historical and cultural district of Malate in the Manila Bay area, Pan Pacific Manila is a short drive to the city's convention, exhibition and business centres and a walk away from shopping, food and entertainment establishments.  A business hotel, designed to offer a comfortable abode to business and leisure travellers with its excellent facilities and service, the hotel has 236 all-executive rooms and suites and 7 spacious function rooms. 
For more information, call (63-2) 318 0788 or visit www.panpacific.com/manila.