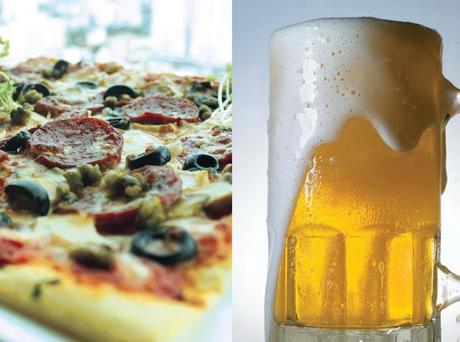 Manila, Philippines, 18 June, 2013
– Take a leisurely dip and enjoy the lushness of landscaped tropical garden at My Pool as Pan Pacific Manila introduces the Pool Pairings. For every order
of any of the Pizza Mia selections at My Pool, guests are treated to a round of complimentary local beer.
Enjoy a relaxing dip at the hotel's swimming pool during sundown and witness the marvel of the world famous Manila Bay sunset while taking pleasure to a wide variety of Pizza Mia selections such as Adobo (soy-braised chicken, pork, kesong puti, goat's cheese), Kesong Puti & Anchovy (kesong puti, anchovies, homemade special sauce), Barbecued Baby Back (smoked baby back ribs, edam cheese, mozzarella, corn kernels), Hawaiian (smoked turkey, fresh pineapple, bell pepper ,  cheese), Four Cheese (fresh tomato sauce, mozzarella, cheddar, gruyere), Vegetarian (grilled onion, tomato, roasted garlic, eggplant, zucchini, bell peppers) and Con Pepperoni (pepperoni, mozzarella, olives, onions, mushrooms, capers) - all perfectly paired with a soothing round of complimentary local beer.
Pool Pairings is available from Mondays to Sundays, 6:00am to 10:00pm at Pan Pacific Manila's My Pool.
For enquiries and reservations, email [email protected] or call 318-0788 and ask for the Butler, of course! For more information about our hotel, visit panpacific.com/manila. Visit our facebook page at www.facebook.com/panpacificmanila.
About Pan Pacific ManilaThe first and finest Butler hotel in the Philippines – ranked among the top Asia city hotels at the 2008 and 2009 Readers Choice Awards, named one of the best places to stay in the world at the Annual Gold List by the Conde Nast Traveler, and also awarded as the Philippines' Leading Business Hotel at the 2012, 2011 and 2008 World Travel Awards. 


Conveniently located at the heart of the historical and cultural district of Malate in the Manila Bay area, Pan Pacific Manila is a short drive to the city's convention, exhibition and business centres and a walk away from shopping, food and entertainment establishments.  A business hotel, designed to offer a comfortable abode to business and leisure travellers with its excellent facilities and service, the hotel has 236 all-executive rooms and suites and 7 spacious function rooms. 


For more information, call (63-2) 318 0788 or visit www.panpacific.com/manila.