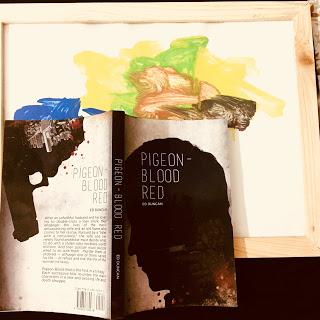 The painting in the background is the work of a Whale!
About the Author
: Ed is a law graduate and originally authored a highly regarded legal treatise entitled "Ohio Insurance Coverage," for which he provided annual editions from 2008 through 2012. Visit his personal website for further details -
Ed Duncan
The blurb says
: For underworld enforcer Richard "Rico" Sanders, it seemed like an ordinary job. Retrieve his gangster boss's priceless pigeon-blood red ruby necklace and teach the double-dealing cheat who stole it a lesson. A job like a hundred before it. But the chase quickly goes sideways and takes Rico from the mean streets of Chicago to sunny Honolulu, where the hardened hit man finds himself in uncharted territory when a couple of innocent bystanders are accidentally embroiled in the crime.
As Rico pursues his new targets, the hunter and his prey develop an unlikely respect for one another and Rico is faced with a momentous decision: follow his orders to kill the couple whose courage and character have won his admiration, or refuse and endanger the life of the woman he loves?
What I Felt About The Book
It was the title which attracted me to the book. I had no idea what "Pegeon Blood Red" meant until I found it's meaning in the book. The author has describe it in detail. It was only then I went to Google and searched for the precious Gem. According to
WIKIPEDIA
- "The brightest and most valuable shade of red called blood-red or pigeon blood, commands a large premium over other rubies of similar quality".
To be honest, I was not hooked right from the first line or page and It took me few chapters to get in the flow. But once I was there, I could not wait to find the climax. It was a straight forward gangster type thriller.
What I Liked
:
1. Romance - Ok!, I Agree that its not a love story but then the tiny bit pieces of affection here and there were an icing on the cake. I am still in search of a girl who has not fallen for a bad guy once in her lifetime. Obviously I loved every bit of Rico.
2. To The Point - The author chose to keep the content crisp which worked well for me. There was hardly any line or section which I skipped or skimmed through.
What I Did Not Like:
One liners - I failed to spot any one liners in the book!
The story is full of twists and turns which kept me hooked.
It is one of those books, which is not great but still forces the reader to give good ratings. All the very best to the author for his future writings.
Follow following links to get the book:                                                       
Note: I received a review copy of the book in exchange of honest review -