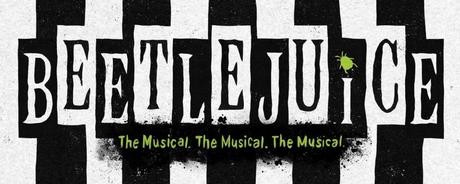 I'll give those who are just joining this party a chance to digest the fact that "Beetlejuice" has been musical-ified. Yes, yes it has. Cool, right? Okay, are we all good?
So, "Beetlejuice"...Beetlejuice...sorry, I couldn't resist. With the classic "Day-O" and "Jump in the Line (Shake Senora)" musical numbers it's easy to see how this Tim Burton classic was chosen to join the ever-growing ranks of screen-to-stage musicals.
Of course, those same songs are what gave me some serious reservations going into this new musical adaptation. There is nothing worse than a movie turned musical that keeps the same book and just slaps some new songs in between. No one wants to see that...okay, that's not entirely true.
Time for a short(ish) tangent. Please join me on my soapbox. I'll acknowledge that a lot of theatergoers want to see the scenes they know, but seriously, it makes me cringe. If I wanted to watch the original movie, I would watch it. What's the point of adapting a story for the stage if you don't actually adapt it for the stage? Why not have some fun and play around with the characters a little, see how they behave in this new setting, maybe even throw a few curveballs in there. There's something to be said for nostalgia, but there's also something to be said for the utter boredom that comes from feeling like you've seen this before...because you have. (End of tangent)
Back to "Beetlejuice." This lively show about death does not play as a carbon copy of the film. With a Lydia (Sophia Anne Caruso) and Betelgeuse (Alex Brightman) who have completely made these roles their own, the show has clearly set itself apart from its source material. Add in a rock score from Eddie Perfect and you've got an entirely new take on this household name.
That being said, there is plenty of film material that you will recognize, and that's all you're getting out of me because theater spoilers are the worst kind of spoilers. I will say that, as someone who already admitted to not liking carbon copied scenes, these moments are tolerable in "Beetlejuice." At the very least, it was fun to feel the excitement from my fellow audience members.
It's a fun show with a zany, rocker soul and some truly funny moments. It might even scare you a few times, but mostly it's just a good time with a new take on this beloved "ghost with the most."
Before I go, I need to give a shoutout to the true scene-stealer of the show-the Girl Scout (Dana Steingold). I won't give anything away (please see earlier comments about theater spoilers), but let's just say that she could totally kill the Night King because she is a survivor, damn it...also, Barbara Maitland (Kerry Butler) is a close runner-up for the honor of Night King slayer. (I told you this was going to be a thing ...still taking suggestions for "Hadestown" and "Kiss Me, Kate")
...just for fun: