Solitaire's the name of the game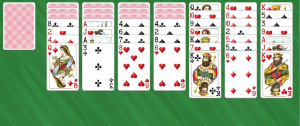 http://www.bvssolitaire.com
After Valentine, I was thinking about some people who said that they had no one to be with on Valentine's day and before I said "Bah humbug", I felt that I owed them a mention. One woman I know has sworn off dating. She loved someone who did not love her back. So she gave it up for a life alone, with cats. I heard this old Carpenter's song on the radio and I thought of her.
The words of this Carpenter's song are about a man who fell in love with a woman who didn't love him back so now he cannot love again.  The meaning of solitaire is that it's a one person game. Solitare is played on your own. It's talking about a person who is living their life alone for their own reasons. According to Wikipedia, "Solitaire" is a ballad written by Neil Sedaka and Phil Cody. Cody employs playing the card game of solitaire as a metaphor for a man "who lost his love through his indifference" – "while life goes on around him everywhere he's playing solitaire".
People, there is someone out there for you.