Well another training day and I thought he was making progress, but here he is post-run: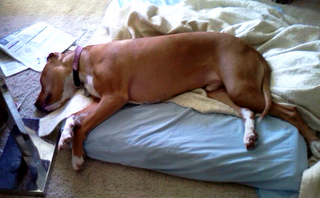 Luckily the Doggie Dash isn't until mid-May. So we still have some training time. :o) But he is a trooper and he does enjoy himself when we are out running and walking. Today was such a nice day too. We finally had a sunny, warm day.
I think he's going to sleep well tonight (taken about an hour ago):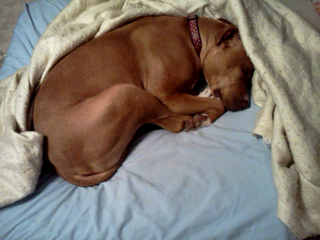 I made him a bed and reused the egg crate mattress pads we stored from our dorm living days. I sliced two in half and stacked them up to create a memory foam-like bed. He loves it.
**********************************
In other news, I got this sweet gift from my friend (all the way from Japan)!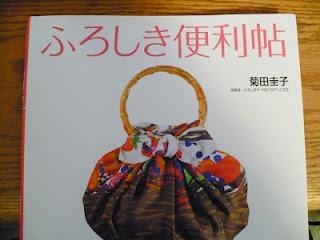 We met in college and have tried to keep in touch. I'm sad she moved back to Japan because she was by far one of the coolest people to hang out with. I will just look at the beautiful pictures and settle for that until I can read Japanese.
I found some flowers today and had a delicious teriyaki pineapple pizza for dinner. Now I'm going to have to jog more... :o/ Wouldn't it be nice if you could just eat the junk food once and not have to worry about it coming back to haunt you?
Speaking of haunting... I saw part of the original Psycho movie the other day. Hitchcock movies are so great... they still scare me and that's without CGI, color, special effects, etc.
I hope your Saturday went well!